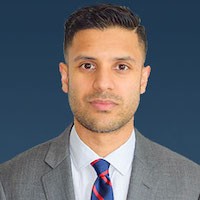 Dr. Jeremy Britto
Podiatrist on Long Island
Dr. Britto attended Brooklyn Technical High School and went on to graduate from Hunter College. During his time as an undergraduate, he was treated by a podiatric foot and ankle surgeon and decided to pursue this specialty as a career choice. His residency at Good Samaritan Hospital Medical Center was also spent between several hospitals of the Catholic Health System in Long Island. It was there that he was trained and mentored by surgeons of many different specialties, which has allowed him to be an overall better foot and ankle surgeon.
Dr. Britto has undergone further training in the foot and ankle. This includes both the comprehensive and advanced courses offered by the American College of Foot and Ankle Surgeons, as well as ankle arthroscopy. Although he is trained in all aspects of the foot and ankle, his passions lie in trauma, wound care, and limb salvage. He is an Associate of the American College of Foot and Ankle Surgeons.
He tries to maintain an active lifestyle and this has not been without injuries. He understands very much what it feels like to be in the patient chair, and this has led him to take on a very empathetic approach to traumatic or sports type injuries.
He is a world traveler and loves to be surrounded by new and interesting people and ideas. He enjoys living in Queens, New York with his wife, newborn son, and two dogs. What he loves most about New York City is the diverse and countless restaurants he has to choose from. He is also an animal lover and is always willing to give support when he can to many of the local animal charities.