Our podiatric surgeons specialize in adult and pediatric lower extremity.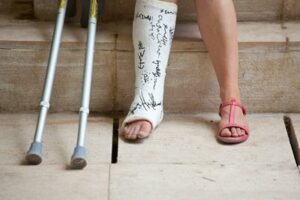 These specializations include the following procedures:
Reconstruction and Trauma
Painful flat-feet (pes planus), painful high-arched feet (pes cavus)
Congenital and Acquired deformities (soft tissue and bone)
Osteoarthritis of the foot and ankle
Complications from Rheumatoid Arthritis
Osteomyelitis and soft tissue infections
Foreign bodies and puncture wounds
Joint replacement surgery
Plastic surgery techniques
Arthroscopic surgery
Sports injury surgery
Ankle instability
Tendon tears and ruptures
Charcot neuroarthropathy reconstruction
Diabetic limb salvage procedures (wounds, ulcers, infections)
Common conditions such as bunions and hammertoes, plantar fasciitis, neuromas, and skin lesions.
By consulting with our foot surgeons or ankle surgeons, an evaluation of your injury can be conducted in order to properly determine several different factors. This can include injury severity along with the determination of which specific surgery is necessary for treating your pain.
Naturally, each foot and ankle injury is unique and requires the proper attention of a specialist who can assess your complication and execute a plan of attack moving forward. Our staff can even determine whether or not surgery is necessary for your issue.
Above all else, we can help put your mind at ease and give you answers to the questions other physicians may not be able to provide. Contact us today to learn more about what our surgical procedures can do for your injury. For more information on our Ankle Surgeon in Nassau County, please click here