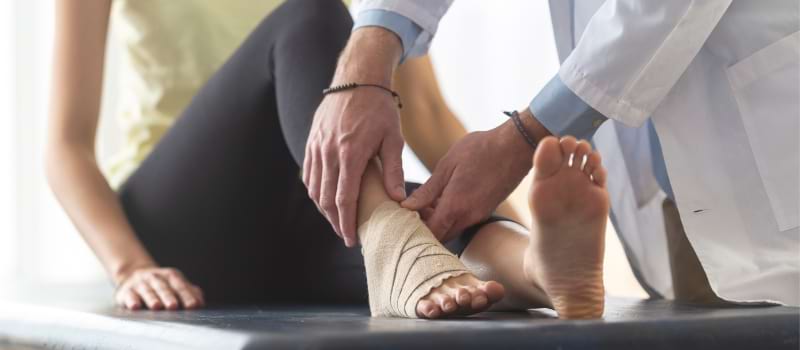 When Charcot arthropathy begins, it can be challenging to realize something is wrong. But eventually, this condition can change the shape of your foot and cause significant pain. Our podiatrist in NYC at Foot and Ankle Surgeons of New York is dedicated to helping patients understand Charcot arthropathy. Continue reading to discover the symptoms of Charcot ankle and how we can help! 
Symptoms of Charcot Ankle
Charcot ankle is a condition that can lead to severe disability, deformity, and even amputation. For these reasons, it's essential to be aware of the symptoms to avoid long-term complications.
Charcot ankle can be challenging to detect early on. In the early stages, your foot may appear red, feel warm to the touch, and you may have significant swelling in your foot and ankle. Our podiatrist in NYC will discuss your general health and current symptoms. We will carefully examine your foot and may perform imaging tests to see detailed images of your foot structure. In the early stages of Charcot, the images may appear normal. However, if your condition has progressed, an x-ray can show multiple dislocations and fractures of the joints.
Treating Charcot Ankle
Charcot ankle or foot is a condition that weakens the joints, soft tissues, and bones of the feet and ankles due to nerve damage. Charcot ankle is primarily seen in patients with diabetes. This condition causes the bones to weaken to the point of fracture, and with continued walking, the foot may begin to change shape. As this condition progresses, the ankle joint and midfoot collapse and the foot and ankle take on an abnormal shape. It's imperative to follow a treatment plan from our podiatrist in NYC to avoid life-altering complications. Some of the non-surgical treatments for Charcot ankle include:
Immobilization.
Custom Orthotics and Bracing.
Lifestyle Modifications.
In some cases, the Charcot ankle deformity can become so severe that surgery is necessary. Our dedicated staff will determine the appropriate timing and procedure based on your unique needs and individual case.
Contact Us
Foot and Ankle Surgeons of New York are experts in the latest foot and ankle care. We treat all conditions affecting the feet and ankles and will outline the most effective treatment plan to help manage Charcot ankle. To learn more about this condition or schedule an appointment, be sure to contact our podiatrist in NYC.