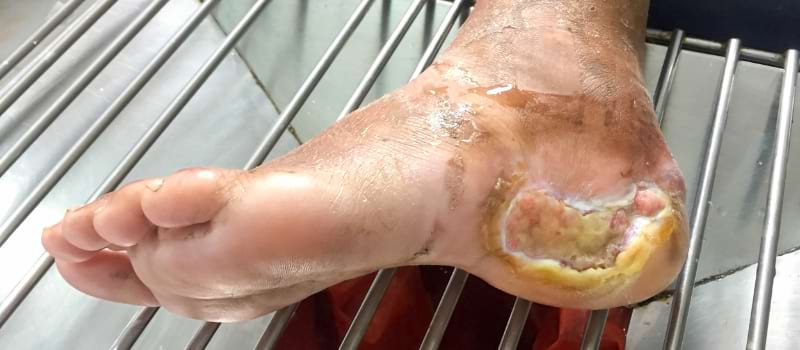 Foot complications like ulcerations constitute a significant problem for patients with diabetes. Unfortunately, type 2 diabetes is more common in men, leaving them at a greater risk of developing foot ulcers. Our foot doctor in Midtown at Foot and Ankle Surgeons of New York would like to honor Men's Health Month by discussing why men are more prone to foot ulcers. Continue reading to learn more. 
What Are Foot Ulcers?
A foot ulcer is an open lesion or sore that will not heal or recur over long periods. These uncomfortable sores result from the breakdown of the tissues and skin of the feet and ankles. As an ulcer starts to develop on your foot, you may experience changes in your skin. Dryness, cracked skin, redness, and rashes are all signs of an ulcer forming. It can get deeper, wider, and longer as this wound worsens. In advanced stages, you might see a callous, skin discoloration, or it may emit a strong odor. While there are different types of ulcers, diabetic foot ulcers are among the most common in men. Some other common risk factors for foot ulcers include:
Heart Disease.
Bunions.
Smoking.
Obesity.
Blood Circulation Issues.
Kidney Disease.
Treating Foot Ulcers
As soon as you notice any unusual skin changes or an ulcer on your foot, you should seek podiatric care from our foot doctor in Midtown as soon as possible. Patients with diabetes need their foot ulcers treated for several different reasons. Treating a foot ulcer early on can help reduce the risk of infection and amputation, improve function, and improve a patient's quality of life. Treatment of all ulcers begins with careful foot and skin care. Our podiatrists offer several conservative and surgical treatment options for foot ulcers. Some of the conservative, nonsurgical treatments include:
Antibiotics.
Topical Wound Care.
Custom Orthotics.
Compression Stockings.
Draining.
Bracing.
If the ulcer worsens, does not heal, or becomes infected, more invasive treatments may be required. Our foot doctor in Midtown will evaluate your condition and determine the best course of action to help you recover from your foot ulcer and prevent them from coming back.
Contact Us
Our foot doctor in Midtown at Foot and Ankle Surgeons of New York is well-versed in managing foot ulcers. During Men's Health Month, prioritize your foot care and put your best foot forward. Be sure to contact us today to learn more or schedule an appointment!