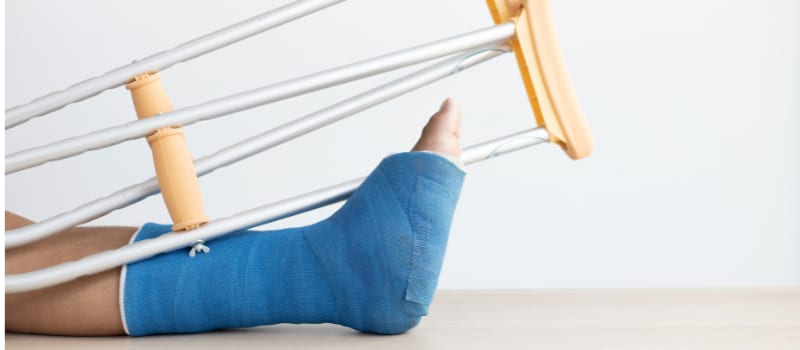 Your feet are a complex and intricate structure that make it possible to carry out life's daily functions. The bones in your feet are rigid but bend slightly to absorb the impact of walking, running, or jumping. However, continuous strain on a bone can lead to hairline fractures that require the treatment of a foot doctor Commack NY. If you believe you've developed a hairline fracture, Foot and Ankle Surgeons of New York are ready to help! Continue reading to discover the common symptoms of a hairline fracture in your foot.
Symptoms of a Hairline Fracture in your Foot
Hairline fractures are one of the most common foot injuries treated by our foot doctor in Commack NY. Also known as a stress fracture, a hairline fracture is a small crack or painful, severe bruise in the bones of the foot. The bones in the feet are highly susceptible to hairline fractures as they absorb a lot of stress when running or landing. Some of the common signs of a hairline fracture include:
Pain when walking, running, or applying pressure on the affected area.
Swelling, redness, and tenderness in the affected foot bones.
Bruising of the skin overlying the fracture site.
A visible bump or indentation at the fracture site.
If you think you may have a hairline foot fracture, it is essential to see your podiatrist for an accurate diagnosis. Our podiatrist can diagnose a hairline fracture through physical examination and medical imaging such as X-rays or MRI scans. Once the hairline fracture has been confirmed, a treatment plan will be developed based on the severity of the injury and individual patient needs. Treatment plans typically involve prescribing nonsteroidal anti-inflammatory drugs for pain relief and possibly a short immobilization period with a cast or boot. In some cases, surgery may be necessary to repair severe hairline fractures affecting multiple bones in the foot. Surgery usually involves placing a screw or pin to hold the bones together and allowing them to heal correctly. Don't delay your treatment if you suspect you're dealing with a hairline fracture! If your fracture doesn't heal properly, it could result in chronic, long-term pain. Our experts are here to provide the treatment you need to get back on your feet pain-free!
Contact Us
Hairline fractures in the foot can be painful and debilitating. However, with proper diagnosis and treatment from a foot doctor in Commack NY, recovery is typically fast and successful. If you think you may have a hairline fracture in your foot, contact Foot and Ankle Surgeons of New York right away to get the treatment you need.