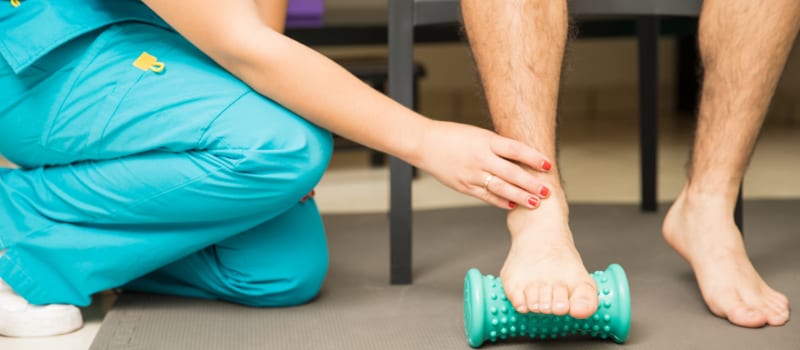 One of the most prevalent soft tissue foot disorders treated by our podiatrist in NYC is plantar fasciitis. This condition involves the painful inflammation of the plantar fascia, the band of tissue that connects your heel bone to your toes. When you experience stabbing heel pain with your first steps of the day, plantar fasciitis is likely the culprit. At Foot and Ankle Surgeons of New York, our team has helped countless patients manage this condition. Continue reading to discover some of the risk factors of plantar fasciitis and how we can help you stay on your feet pain-free.                          
Risk Factors of Plantar Fasciitis
The central function of the plantar fascia is to absorb the impact of walking, standing, and running on your feet. This area of the body gets a lot of use, and excess strain can damage the plantar fascia. Several different risk factors can increase your likelihood of developing plantar fasciitis, including:
Age – This condition is more common in patients between the ages of 40 and 60 years old.
Foot Mechanics – High arches, flat feet, tight calf muscles, or an abnormal walking pattern can affect weight distribution when standing and place additional stress on the plantar fascia.
Obesity – Being overweight or pregnant can place more pressure on the feet.
Time On Your Feet – If you spend most of your day on your feet, this can be a major contributing factor to plantar fasciitis. Even if you do not stand often, runners often place repeated stress on their heels, making them more vulnerable to this condition.
When you consult with our podiatrist in NYC, we'll help you develop strategies to ensure that your activities don't lead to heel inflammation. Implementing lifestyle and footwear modifications can make all the difference in your heel pain. Ignoring your plantar fasciitis can lead to ongoing pain and potential structural damage in your foot, so be sure to seek treatment right away!
Contact Us
Plantar fasciitis has the potential to keep you from the activities you love, but our team at Foot and Ankle Surgeons of New York can help. Our podiatrist in NYC is here to help you with all of your foot care needs and will develop an individualized treatment program to suit your needs. Contact our team today to learn more!