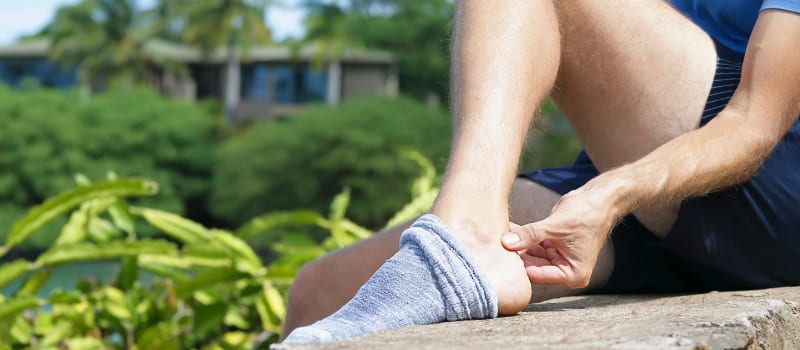 The Achilles tendon is the largest tendon in the body that connects your heel bone to your calf muscles. This strong, durable tendon experiences intense loads during physical activity and makes jumping and running possible. However, the Achilles tendon is the most frequently injured tendon in the lower extremities, plaguing many athletes every year. Here at Foot and Ankle Surgeons Of New York, we want to help you prepare your body to avoid such complications this fall. Our podiatrist in NYC would like to share some techniques to decrease your chance of Achilles tendon rupture. 
How To Avoid Achilles Tendon Rupture
Protect the Achilles
Performing the same motion repetitively can exacerbate stress on your extremities. Mixing up your exercise routine can allow certain areas of your body to rest and improve strength in others. If you typically enjoy high-impact sports, try incorporating low-impact alternatives like swimming or cycling from time to time.
Stretch and Strengthen the Calf Muscles
Since the Achilles tendon connects to the calf muscles, the stronger the calves, the better. Strengthening your calf muscles can help reduce stress on the tendon, and stretching keeps your muscles flexible and warm, reducing your risk of injury. Our podiatrist in NYC recommends taking time to stretch and warm-up before jumping into strenuous activities.
Avoid Unsafe Surfaces
When running or walking, you should consider the surface. A flat, track-type of surface is ideal but may not always be available. When choosing your running path, seek paths that are not too hard or slippery, and avoid uneven trails that could cause you to trip or step in a ditch.
Wear Appropriate Shoes
You'll want to select shoes that fit well and provide adequate cushion, heel, and arch support. You should also select the appropriate shoes for your particular activity. Our podiatrist in NYC can recommend the perfect shoes for your sport and foot needs.
Contact a Podiatrist in NYC
If you find yourself dealing with an Achilles tendon rupture, the podiatrist in NYC at Foot and Ankle Surgeons of New York is here to help. When left untreated, an Achilles tendon injury can take time to heal and lead to further complications later on. Contact our office today to discover additional prevention tips or to schedule an appointment for care.