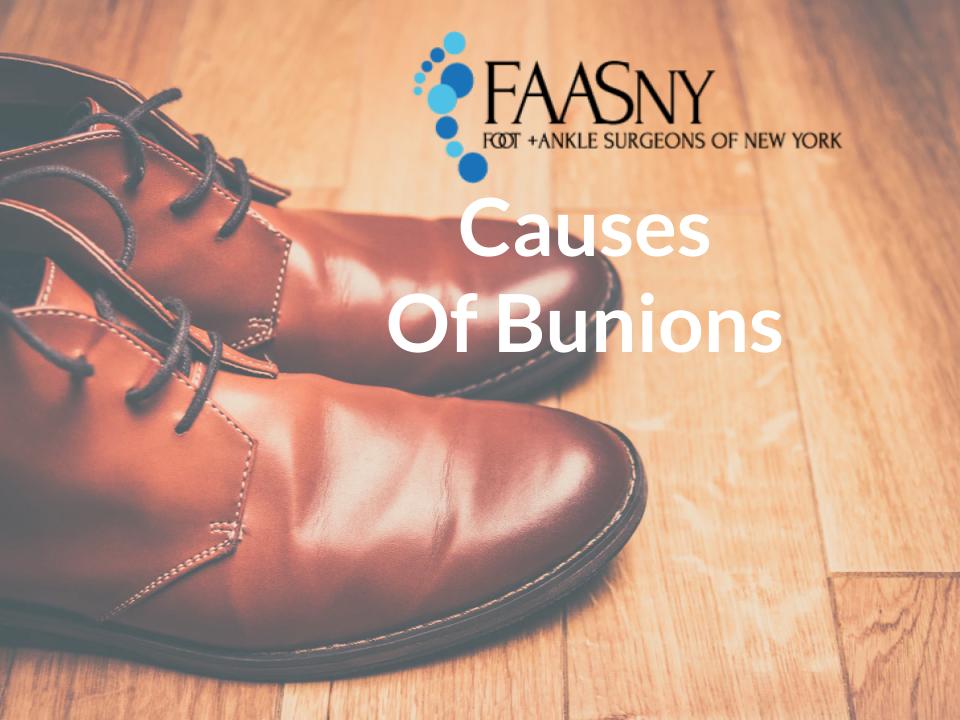 Have you recently noticed an enlargement near the inner joint around your big toe?  If this is the case, you may be suffering from bunions. While this change may be visible, other changes may have occurred that you are unable to see. At Foot & Ankle Surgeons of New York, we are here for you if bunions become present in your life.  
What are Bunions?
If you have noticed an enlargement on your big toe, it is actually a misalignment of the joint at that location.  The enlargement can also be the result of additional bone formations. This deformity will cause the big toe to point outward as well as rotate towards the smaller toes.  The enlarged joint can become inflamed and pain-filled as a result of bunions.
Symptoms
Bunions can occur with or without symptoms.  One of the early symptoms that may be present is a pain in the big toe when you are walking or simply just wearing shoes.  You also may notice blisters and calluses beginning to form as a result of the deformity. Redness, joint stiffness, and tenderness are also symptoms you may experience when dealing with bunions.  
Causes Of Bunions
A variety of things can lead to bunions, including:
Genetics

Rheumatoid arthritis

Improperly fitting shoes

Trauma (sprains & fractures, although a less common cause)
The Foot & Ankle Surgeons of New York can discuss with you what may be causing your bunions and what to do next.  
Treatment Options
There are ways to treat bunions without surgery being necessary.  Shoe modifications can be made, and you could also be instructed to wear a splint to correct the misalignment.  Anti-inflammatory medication can also be taken to help reduce the swelling that is present and aide in pain relief. If these remedies do not help, surgery may be the only option.  It is usually an outpatient process and patients can walk immediately without the need for crutches.
Bunions can cause a real issue when it comes to walking.  It is nearly impossible to get anything done when you can't walk without pain, so clearly, the issue needs to be corrected in a timely manner.  The Foot and Ankle Surgeons of New York can help with this. We can diagnose the problem and begin treatment in a quick and simple fashion. Please contact us today.
Related Posts