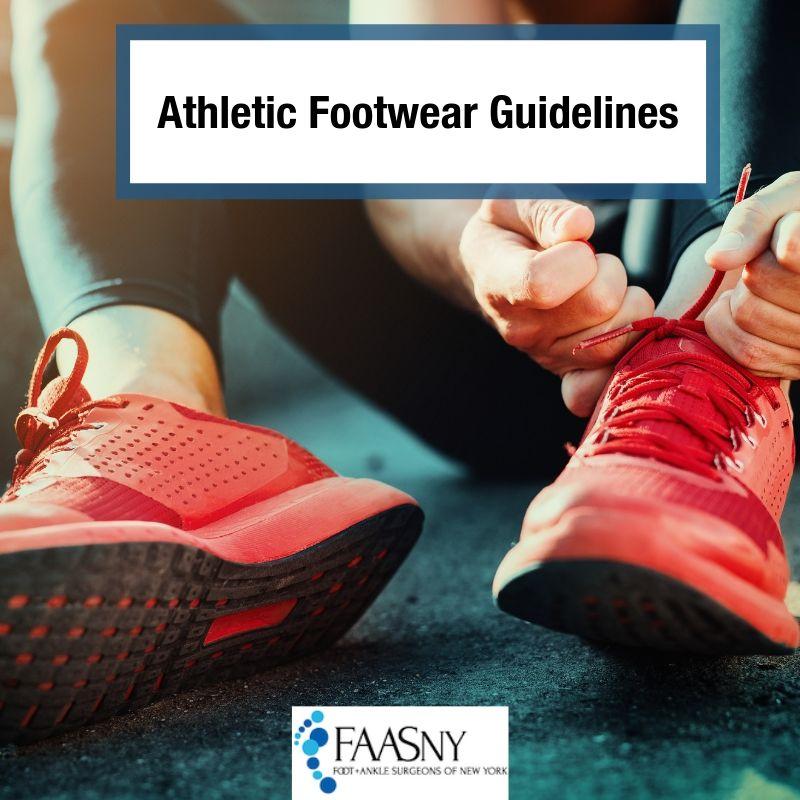 If you are an athlete or enjoy being regularly active, you should understand how important it is to have the right pair of footwear on.  There can be various risks that come with improper footwear and plenty of positives if you do choose to wear proper footwear. Having a good looking pair of shoes is always nice, but looks should especially come second when looking for proper footwear as an athlete.  
Understanding Athletic Footwear:
A big part of wearing proper footwear is understanding which sneaker or shoe will work best under the demands of your sport. While certain shoes may feel comfortable at first, that does not mean it is right for you. Depending on how you will use your shoes will decipher whether or not they are a good fit or not. Below are a few common choices when it comes to athletic footwear:
Running Shoes – While extremely similar to walking shoes, it is important that we recognize that traditional running shoes will always provide cushioning, flexibility at the ball of your foot, as well as stability. They should also provide you with durable outsoles in order to take on the traction of grass, dirt, or pavement.
Walking Shoes – These can be used for those who choose to walk for fitness purposes or to just get around throughout the day. Typically will include comfortable cushioning and flexible soles.
Cross-Trainers – These are all-purpose shoes, meaning they bridge similarly to walking shoes as well as sports-specific shoes. They are a great option for people who want to use their shoes for a variety of activities. Keep in mind though that they will not provide the same support for running or high-impact activities like another shoe would.
Sports-Specific Shoes – While the shoes we mentioned above work great for the day-to-day or exercising, choosing shoes specifically for a sport can help you enormously. For example, basketball shoes will come in the form of high tops which are used to help support your ankles from the impact of jumping, abruptly stopping, etc..
Why Proper Footwear Should Be a Priority:
Here are some reasons why wearing proper footwear as an athlete is so important and the impact it can have on your body if you aren't:
Prevent injury – Proper fitting footwear can help avoid serious injuries such as an ankle sprain or shin splints.
Lessen the impact on your joints – Every step you take puts pressure on your joints and proper shoes can help to lessen the impact.
Everyone has different shaped feet – Whether you have wider feet or a higher arch, it's important to wear footwear that matches the shape of your feet so you can be comfortable and prevent injury.
Footwear is sport-specific – Wearing footwear specially designed for your sport can help improve your performance and keep your feet protected.
Lessen discomfort – Proper footwear that is comfortable for you can help your performance and endurance.
How can Custom Orthotics help?
Aside from picking out the proper footwear for your sport, you may also be able to benefit from the use of custom orthotics. This can be especially helpful if you have been suffering from any foot or ankle related issues. Your podiatrist may suggest the use of custom orthotics for the following reasons:
Reducing pain in your foot, ankle, leg or even lower back
Helping to maintain the correct alignment of your foot
Improving your balance
Supporting your arch and heel
Absorbing any shock and helping to distribute pressure along the bottom of your foot
A podiatrist can help you determine what footwear can provide you with the best protection if you are ever uncertain. They can help recommend what shoes will fit best, provide the most comfort and stability, and keep you going strong while being active and possibly some custom orthotics to provide even more protection. At Foot and Ankle Surgeons of New York, our experienced podiatrists are eager to help ensure that you are taking the best care of your feet as an athlete and help you to make the best decisions when shoe shopping. Contact us for more information on how we can help you.