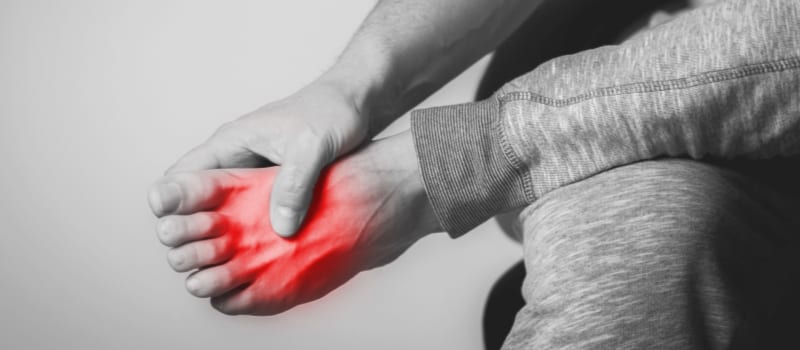 Since your feet are such an integral part of everyday life, they experience significant wear and tear. Chances are, you may develop foot pain throughout your life. At Foot and Ankle Surgeons of New York, foot doctor in Plainview NY, we specialize in diagnosing and treating sports-related and chronic conditions that affect the feet and ankles. If foot pain has been interrupting your daily life, our team would like to share some vital information about the different types of foot pain. Continue reading to learn more.
Different Types of Foot Pain
Pain can strike in several areas on the feet. Foot pain can occur in the ball of the foot, toes, arches, and bottom of the foot. Certain conditions are commonly associated with pain in these areas. Here are some of the most prevalent conditions that can contribute to foot and ankle pain:
Posterior Tibial Tendonitis
The posterior tibialis tendon runs down the inner lower leg and attaches to the bottom of your foot close to the inside of the arch. This tendon supports your foot's natural arch. Pain and irritation here can limit your walking ability and cause flatfoot.
Plantar fasciitis
Plantar Fasciitis is a common cause of heel pain that a foot doctor in Plainview, NY sees. The pain is most often felt in the morning when getting out of bed or after sitting for long periods, and it diminishes with movement. The plantar fascia can be irritated by tight calf muscles, flat feet, overpronation, and shoes that don't fit well or lack appropriate arch support.
Sprains
Sprains are common foot injuries that can occur when the ligaments in the feet and ankles stretch, tear, or rupture. Active individuals are more susceptible to sprains, especially those who participate in activities requiring running, pivoting, jumping, or kicking. Even an everyday mishap, like an awkward landing off a step, can result in a sprain.
Strains
Foot strains represent damage to muscles and tendons rather than ligaments. Many people experience a strain from overuse, failure to warm up properly, or wearing poorly fitting shoes.
Fracture
A fracture in your foot can present similar symptoms to those of sprains. You may experience foot pain, swelling, bruising, and inability to bear weight on the affected foot. The fracture can also feel tender to the touch.
Diabetic Neuropathy
Diabetic neuropathy is a form of nerve damage that can occur if you have diabetes. Uncontrolled high blood sugar can injure nerves throughout the body but tend to affect the nerves in your feet and legs more. Symptoms of diabetic neuropathy can cause pain and numbness in your feet. This loss of sensation can be dangerous since you might not notice wounds in your feet, which can lead to infection and potentially life-threatening symptoms.
Treating Foot Pain
Treatments for foot pain and conditions depend on the cause of the problem. Superficial injuries or pain in the soft tissues of the feet can often be treated at home with rest and ice. However, severe pain and injuries require closer examination. Our foot doctor in Plainview, NY can recommend custom orthotics to support your foot and help alleviate pain. Exercises can also help strengthen the foot muscles and promote healthy blood flow to the lower extremities. If more conservative treatments fail to bring you relief, surgery may be the best course of action. Our team will evaluate the cause of your foot pain and outline the best treatment for your needs.
Contact Us: Foot Doctor in Plainview NY
At Foot and Ankle Surgeons of New York, foot doctor in Plainview NY, we use surgical and non-surgical means to treat foot conditions. Our goal is to help our patients return to pain-free mobility and strength as quickly and painlessly as possible. To learn more about how we can address different types of foot pain, be sure to contact our team today!