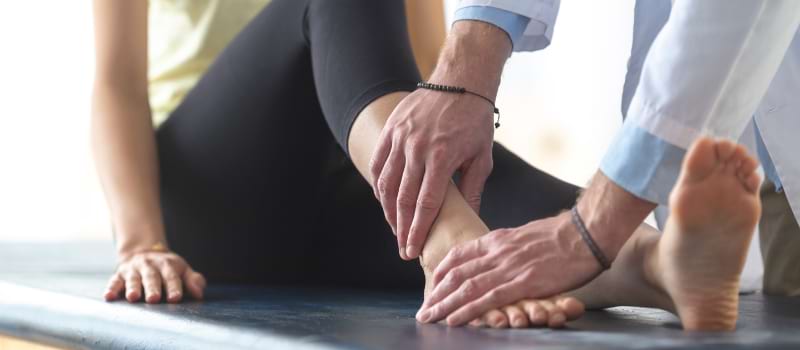 Many sports can be taxing on the foot and ankle because of quick, repetitive movements, constricting footwear, and increased exposure to trauma. One of the most commonly injured joints in sports is the ankle. Ankle fractures are common among athletes who participate in basketball, soccer, football, and gymnastics. The staff at Foot and Ankle Surgeons of New York specializes in providing expert treatment to those dealing with an ankle fracture. Our ankle surgeon in Elmhurst will determine the best course of treatment to get your ankle back to health and get you back in the game. 
Treating An Ankle Fracture
As an athlete, you subject your feet and ankles to a lot of stress throughout gameplay. Unfortunately, you may be more susceptible to fracturing your ankle. An ankle fracture involves a crack or break in the ankle bone, and this injury requires prompt treatment to ensure that your ankle mobility returns to normal. The symptoms of a fractured ankle tend to be obvious and include:
Pain that stops you from walking.
Swelling at the onset of the injury.
Bruising.
Visible ankle deformity.
When you suspect this ankle injury, it's best to consult with our ankle surgeon in Elmhurst. Our team will evaluate your condition and determine if you have a fractured bone or if the joint has become unstable. Nonsurgical treatment usually involves anti-inflammatory pain medication and splinting. The joint's stability and type of fracture will determine what type of splint will be used and how long you will need the splint. A splint or cast will hold your ankle in place while it heals.
The support of the cast helps control swelling and takes pressure off the injured ankle. Casts must be worn for a set amount of time, and it usually takes around four to eight weeks for an ankle fracture injury to heal.
Do I Need Surgery?
Surgery is usually reserved for severe cases of ankle fracture. If your injury results in instability or the bones are displaced, surgical treatment may be necessary. The most common type of ankle fracture surgery involves placing screws or plates in the joint to stabilize the affected leg. The screws or plates are used to keep bones in place while the bone heals. Our ankle surgeon in Elmhurst will surgically realign the joint to reduce your risk of developing joint stiffness and arthritis, which can hinder your athletic performance. Once your ankle has fully healed, we will recommend rehabilitation to restore your normal range of motion and strengthen the joint.
Contact Our Ankle Surgeon In Elmhurst
As an athlete, you've spent so much time training to play your best. Don't let an ankle fracture take you away from the sport you love. Our ankle surgeon in Elmhurst will provide you with the best treatment to safely get you back in the game. Contact Foot and Ankle Surgeons of New York today to schedule an appointment!