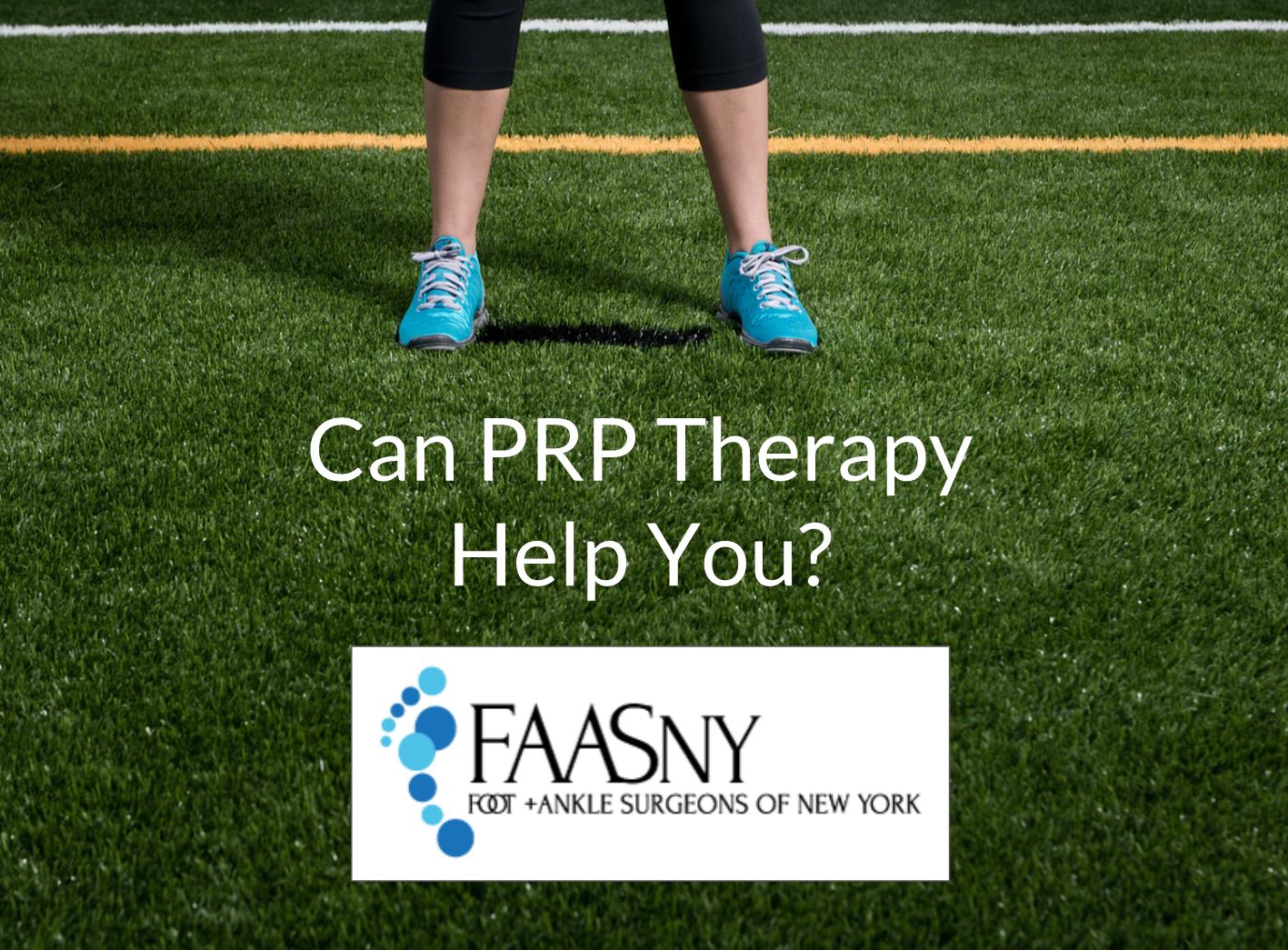 PRP Therapy
Platelet-Rich Plasma Therapy (PRP) is becoming an increasingly popular treatment option for a variety of injuries and conditions. It provides effective results with a faster recovery time over alternatives such as physical therapy, medication, and surgery. Our experts at Foot & Ankle Surgeons of New York specialize in sports medicine as well as other advanced podiatric services and can determine if PRP Therapy is the right fit for your treatment plan.
PRP Therapy can treat conditions such as:
Ligamentous Injuries

Ankle Sprains/ Strains

Achilles Tendonitis

Plantar Fasciitis

Ankle Arthritis
and more!
What is PRP Therapy?
Platelets in the blood contain proteins that help with growth and healing.

A candidate for PRP would have blood taken in order to separate platelets from other components of the blood.

A concentration of platelets extracted is then injected into the injured area.
How Does it Work?
The injection of the PRP preparation helps the affected area to grow new cells to repair and restore the damaged tissue quickly and efficiently. This is possible due to the increased concentration of proteins found in the platelets. This process helps with pain-relief as well as proper healing
Are There Side Effects?
Since PRP Therapy is composed of your own blood, there is no possibility that you will have an allergic reaction or that your body will reject the treatment. The most common side effect is mild discomfort at the injection site which generally subsides after one to two days.  PRP Therapy is considered a low-risk, minimally-invasive procedure.
Platelet-Rich Plasma Therapy is designed to promote natural growth and healing of the tissue; therefore results will not be instant. Despite this, athletes have claimed to be able to return to playing and competing normally much sooner than when recovering from other treatments.
Our physicians at Foot & Ankle Surgeons of New York can administer this cutting-edge treatment to help you heal as fully as possible. Make an appointment today to see if PRP Therapy is the best option for your condition!
Related Posts