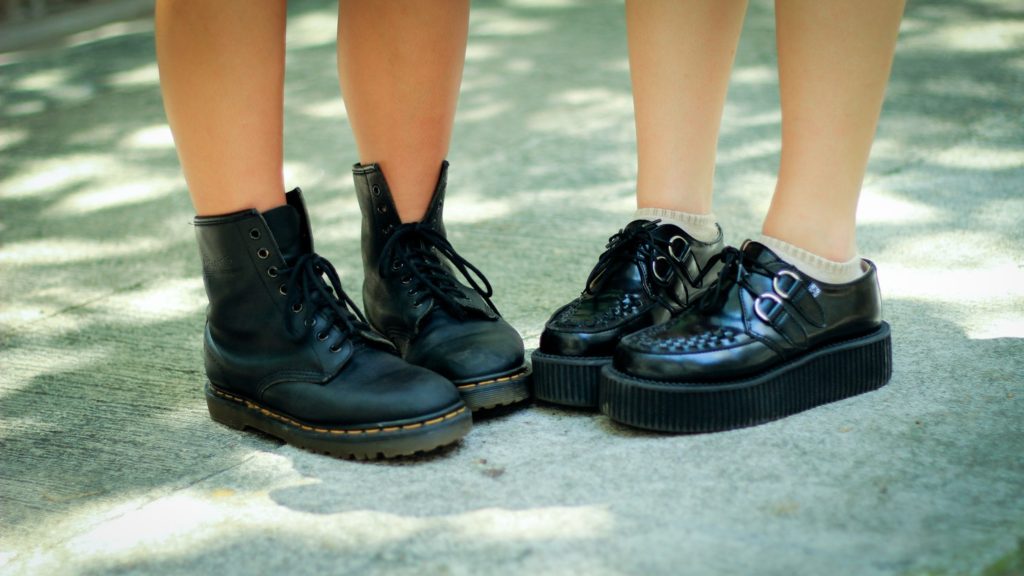 Our NYC Podiatrist – Dr. Hariklia Bezhani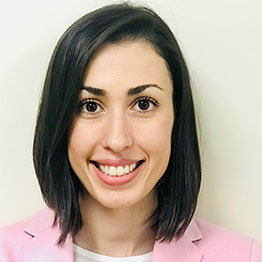 Dr. Bezhani attended the Hunter College City University of New York, graduating with a Bachelor of Arts degree in Psychology while simultaneously completing her pre-medical courses. While at Hunter College, she played volleyball and ran cross-country and was a recipient of the prestigious Peter F. Vallone Scholarship. After graduating from Hunter College, she took a year off and worked at the renowned Hospital for Special Surgery for two prominent orthopedic surgeons on the Limb Lengthening and Complex Reconstruction Service. She helped conduct research, recruit eligible research subjects and stratify data. It was her exposure to lower extremity surgery that sparked her interest in podiatry.
She continued her education and earned her degree in Podiatric Medicine and Surgery at the New York College of Podiatric Medicine (NYCPM). Her clinical and academic achievement earned her the NYCPM Scholarship, as well as membership in the Gamma Chapter of Pi Delta National Honor Society. She completed a three-year surgical residency at Lenox Hill Hospital Northwell Health, New York, where she was trained in the operative and nonoperative treatment of foot and ankle disorders. She was appointed Chief Resident during her final year. She is a compassionate physician whose goal is to alleviate the patient's pain and return them to the activities they enjoy.
Dr. Bezhani is a published scholar, having authored peer-reviewed articles for top medical journals. She is a proud member of the American Podiatric Medical Association (APMA), and the New York State Podiatric Medical Association (NYSPMA).
Dr. Bezhani is fluent in Greek. In her free time, she enjoys painting, traveling and spending time with family.
Why Should You Choose A Local NYC Podiatrist?
If you're interested in searching for a podiatrist in NYC, then you need to consider the many services that Foot and Ankle Surgeons of New York can offer you. Podiatrists are certified foot and ankle professionals who are capable of treating certain ailments that pertain to these parts of the body. Their qualifications are sustained by their rigorous education, which typically requires nearly seven years in total between medical school and on the job training. Podiatry can focus on several exclusive fields, including:
Suffering from chronic foot pain and other related ailments can be a tiresome occurrence, due to the constant nature in which we repeatedly use our feet. This is especially the case for those of us who begrudgingly use our feet for jobs, athletics, and other personal obligations. But not all hope is lost, a podiatrist may be able to provide relief for your perpetual achiness. By providing a thorough inspection/analysis, your podiatrist in NYC, such as the doctors at Foot and Ankle Surgeons of New York, may be able to dissect the primary complication that is creating this discomfort in your foot/ankle area. Afterward, a diagnosis may be determined and your caregiver can begin offering treatment options. This can lead to a potential speedy recovery and perhaps even stop the pain from cropping up again in the future.
When considering a podiatry appointment, it's imperative that you determine some common catalysts that can be the source of your discomfort. Sharing this information with your doctor may assist them in potentially resolving the issue at hand. Primary originators for foot/ankle pain can include the following:
Sports Injuries – those who regularly engage in brisk jogs, walks, and prolonged excursions will be placed at a higher risk for discomfort. Your foot and ankle specialist may recommend proper footwear to treat the problem.
Arthritis – the degenerative joint disease has been known to make appearances in the feet and ankles. After an evaluation, your foot and ankle specialist may be able to formulate treatment options.
Diabetes – rarely do people consider the effects that diabetes can have on their feet, but the ailments can occur on occasion. Allow your trained podiatry professional to evaluate, diagnose, and potentially treat the complication.
If you're in need of a podiatrist in NYC and have been searching the internet for a podiatrist in Midtown NYC, then contact Foot and Ankle Surgeons of New York today for a consultation and appointment.
What Conditions Can A NYC Based Podiatrist Treat?
Achilles Tendon Disorders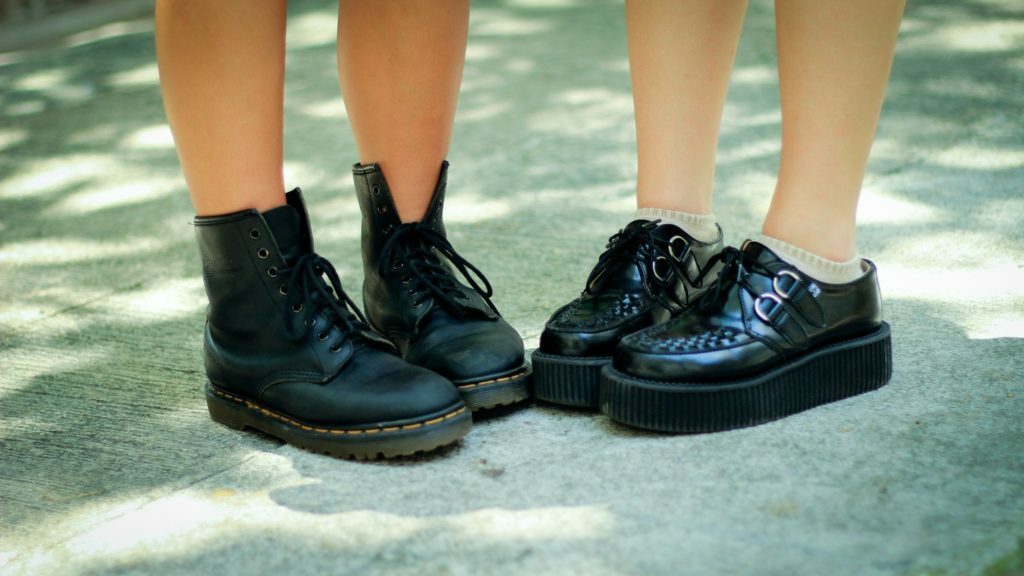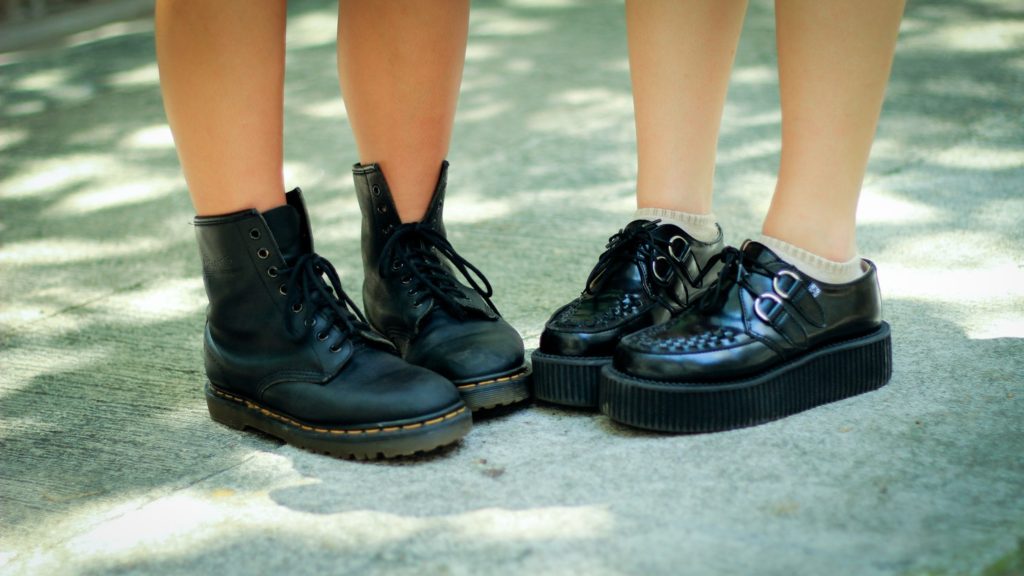 Have you experienced pain in your heel that shoots up your calf muscle? Does this occur when you're extending your ankle forward or standing on your toes? This could be a warning sign that you may have developed an Achilles Tendon Disorder. These complications typically are prone to developing easily identifiable symptoms. If you feel as though you're experiencing any of these symptoms, you should contact your Podiatrist in NYC over at Foot and Ankle Surgeons of New York.
Warning Signs & Symptoms of Achilles Tendon Disorders
Your Achilles tendon is the largest tendon in the human body, running straight from your calf muscle down to your heel. The strength of the muscle is considered to be greater than all the other leg muscles combined. Therefore, an injury in the Achilles Tendon can create a substantial amount of pain. You may initially experience mild pain in this area when performing activities. More severe symptoms may include some of the following:
Tenderness or stiffness within the tendon.
Bruising or swelling if the tendon tears or pops.
Difficulty pointing your toes.
Unable to push your toes off the ground when walking.
Identifying these symptoms can be done at your own leisure, but a proper diagnosis of your history and current condition is needed to truly understand what these symptoms may entail.
How A Podiatrist in NYC Can Help
They can identify the conditions that come with an Achilles tendon disorder and help you put together a personalized treatment plan.
Incorporate the use of devices (i.e. crutches) that will be able to relieve pressure on the tendon.
Recommend stretching exercises for the calf muscle, helping to take stress off of the Achilles tendon. This will help alleviate a significant amount of pain you are experiencing from walking.
Stimulation or high-intensity shock waves could be provided to the Achilles tendon; this treatment has proven to reduce swelling and loosen the tightened muscles.
Finding yourself in pain and in need of fast treatment from a podiatrist in NYC? Visit our about us page to learn more about our practice and the wide variety of treatments we offer here at FAASNY! Contact our offices and get yourself an appointment today!
Ingrown Toenails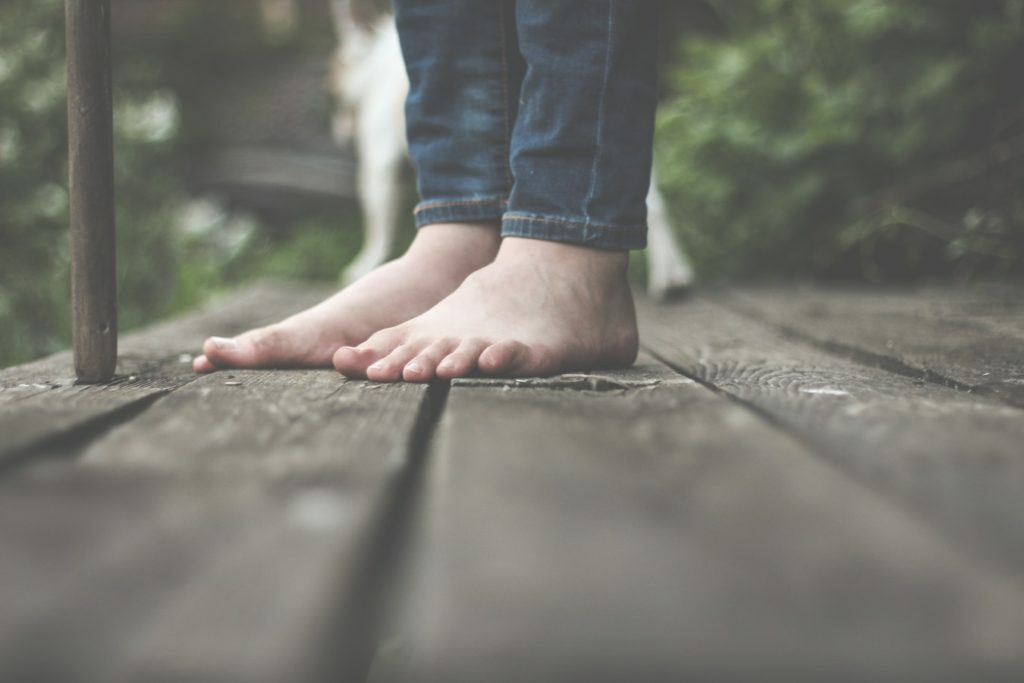 An ingrown toenail occurs when the corner of your toenail grows into the skin. It can cause redness and swelling, associated with intermittent pain. If you are looking for a podiatrist in NYC, or a podiatrist in Midtown NYC, Foot and Ankle Surgeons of New York can help you with this problem. Our board-certified doctors are specially trained to treat this condition and help treat other diseases of the ankle and foot. There are several home remedies you can incorporate to help treat an ingrown toenail.
Common Causes of Ingrown Toenails
Wearing shoes that are either too tight or too narrow.
Cutting the toenails too close to the skin.
Trauma to the toenail such as stubbing your toe.
It is beneficial to soak your toe in the warm water to help decrease swelling of an ingrown toenail. In addition, after evaluation by your podiatrist in NYC, you can apply a topical antibiotic to the area. You should also wear comfortable shoes and socks while the toenail is undergoing the healing process.
Home Remedies for an Ingrown Toenail
Take an over-the-counter pain reliever such as aspirin or ibuprofen.
Try wearing a toe brace to provide stability.
Consider a toe brace which consists of a thin, adhesive material glued to the top of your toe for added cohesion.
Often, these methods may not fully suffice and the best option would be to visit your doctor. If you are looking for a podiatrist in NYC, visit Foot and Ankle Surgeons of NY. FAASNY offers a range of services that include surgical and non-surgical treatment of the ankle and foot.
When to See a Podiatrist for your Ingrown Toenail
When you have signs of infection such as increased redness, warmth, swelling, or pus formation, it's highly suggested that you see your podiatrist in NYC for oral antibiotic treatment.
See a podiatrist if you have recurrent pain or if the pain is getting worse. The doctor may recommend toenail removal, performed in a sterile setting.
Usually, an ingrown toenail can be managed at home. However, serious complications may develop including infection, foot ulcers, or gangrene. Always check your feet for signs of improvement. If you are looking for a podiatrist in NYC, come to visit Foot and Ankle Surgeons of NY. We offer a range of services to help treat disease related to the foot and ankle. Contact us to book your appointment today!
Heel Bone Fractures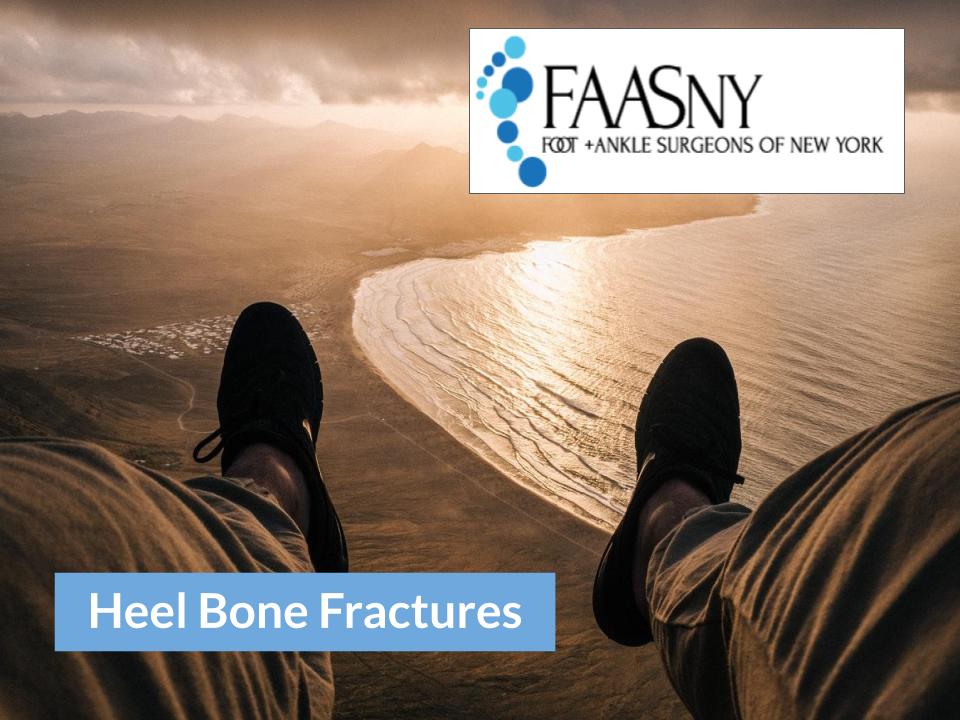 Fractures of the heel bone can lead to an abundance of complications for the patient. In the majority of cases, immediate treatment from a foot/ankle specialist will be required to treat this severe injury.
ABOUT THE HEEL BONE
The foot is made up of three main parts: the midfoot, hindfoot, and forefoot. The calcaneus, or heel bone, is located in the hindfoot. It is located beneath three bones that make up the ankle joint: tibia, fibula, and talus. The heel bone and the talus make up what is called the subtalar joint. This joint allows for sideways movement of the hindfoot and promotes balance on uneven surfaces.
Fractures:
Although uncommon, fractures of the calcaneus can occur. Only 2% of all adult fractures are of tarsal bones, and only about half of those are calcaneus fractures. There are several ways that the calcaneus can become fractured. Common catalysts may include the following:
Twisting injury.
Motor vehicle accident.
Fall from an elevated surface.
The severity of calcaneus fractures can vary depending on the way the injury is sustained. For example, the force of a car accident can result in the complete shattering of the bone, while a minor twist may only lead to a small crack in the bone. The greater the impact, the greater the damage to the calcaneus. For minor fractures, walking may still be possible with a limp. However, for a more major fracture, the calcaneus may become deformed from the injury.
If you are unsure if your heel bone is fractured, here are some symptoms to look out for:
Swelling.
Bruising.
Pain.
Deformity of the heel.
Difficulty walking.
Difficulty putting weight upon the foot.
What Can a Podiatrist in NYC Do?
Because you do so much with your feet, a fracture to the heel bone is a very serious injury. If you suspect that your calcaneus is fractured, it is important to seek out the help of a podiatrist in NYC or ankle surgeon. Upon discussing and assessing your symptoms, a podiatrist in NYC will be able to:
Examine the movement and feeling of the toes and feet.
Assess pulse in all areas of the foot to ensure sufficient blood flow.
Search for potential injuries in other areas of the body.
Additionally, to properly diagnose a calcaneus fracture an ankle surgeon may perform an X-ray or a CT scan. Following the diagnosis of a calcaneus fracture via X-ray, an ankle surgeon will likely still order a CT scan due to the complexity of the bone. The CT scan will allow for a more detailed view of the foot and better assess the severity of the fracture.
After diagnosing the injury, there are several routes an ankle surgeon can take when it comes to treatment. For more minor injuries, the surgeon may recommend non-surgical treatment. Particularly, if pieces of the bone have not been displaced or broken, non-surgical treatment is a better option. The most commonly performed non-surgical treatment is immobilization. For this procedure, the surgeon will place a cast on the foot for 6 to 8 weeks in order to hold the bones in the foot in place while they heal.
For surgical treatment, there are more options available. Among these treatments include:
Open reduction and internal fixation – During this procedure, the surgeon will make an incision in order to reposition bones to their normal alignment, using wires, metal plates, or screws.
Percutaneous screw fixation – For this procedure, only smaller incisions are required. The surgeon will place small screws into the incisions in order to hold the fracture together.
Heel bone fractures are no laughing matter. Regardless of the corrective procedure performed by an ankle surgeon, the recovery time is quite long. For minor injuries and procedures, the recovery time can last about 3 to 4 months, while for worse injuries it can take up to 1 to 2 years to fully recover. That's why you want to make sure to see the best ankle surgeon available to you. At FAASNY, our skilled ankle professionals will ensure you are under the best care possible. We will assess your injury and perform the procedure that is right for you. Don't wait, contact us today!
Frequently Asked Questions about Podiatrists:
Can a podiatrist perform surgery?
A podiatrist does have the ability to do surgery, as well as reset any broken bones, prescribe medication, and order or conduct lab tests or x-rays.
What are the common conditions treated by a podiatrist?
A podiatrist is a healthcare professional that deals mainly with the feet and lower limbs. They have the ability to diagnose and treat related conditions, as well as prevent or correct any deformities. They can help relieve you of pain in these areas, treat infection, or even help with mobility.
When should you visit a podiatrist?
You should schedule an appointment with a podiatrist if any of the following pertain to you. You have persistent swelling or pain in your foot or lower limbs that have not reduced or gone away with two to five days. You often experience a burning, numbing, or tingling feeling at the bottom of your foot.