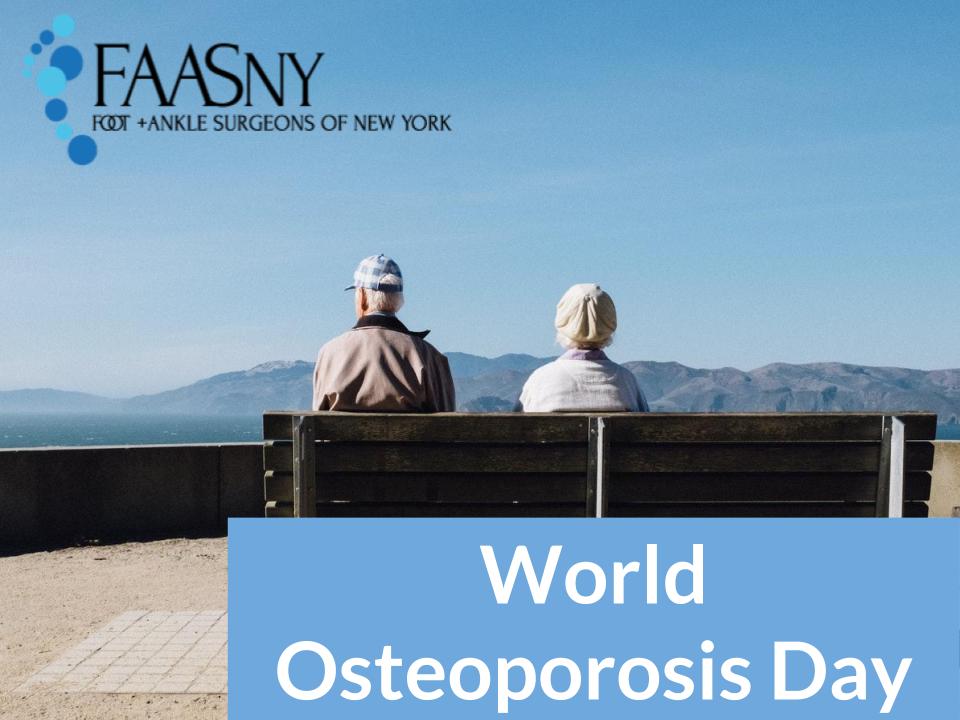 World Osteoporosis Day
World Osteoporosis Day 2018 is shaping up to be one of the best campaigns yet since its introduction over 20 years ago. World Osteoporosis Day (WOD) is annually held on October 20, the main goal of the campaign is to raise global awareness of the prevention, diagnosis, and treatment of Osteoporosis and metabolic bone disease. Naturally, Osteoporosis can increase the risk of foot and ankle problems. The connections between these two can include an increased risk of fractures of the foot and/or the ankle. We're looking to help increase awareness of osteoporosis to the general public, since foot-related complications can have a strong correlation with the condition.   
History of (WOD)
On October 20th, 1996, the United Kingdom's National Osteoporosis Society with support from the European Commission dedicated a campaign dedicated to raising the awareness of a disease that affects the lives of millions.
Every year the 240 member societies select a theme that they will focus on shedding more light on throughout the entire year. The themes vary from year to year but there is always a singular underlined message and that is to inform the public, both those who are suffering from the disease and those who support them about their treatment options and how to better manage the disease.
The themes offer a light subtone over a very debilitating disease that affects more than 10 million Americans today. Themes range from "Early Detection" in 1999 to 2017 light-hearted theme "Love Your Bones – Don't let osteoporosis break you".
Since its launch (WOD), has helped to spread knowledge about osteoporosis and metabolic bone disease across the globe. They are events in over 10 different countries spanning the world. Countries such as Germany, Italy, and Russia hold rallies and events every year advocating for better health care for those who suffer from bone diseases.
Gerry's Story
The world osteoporosis day offers survivors and supporters a global platform to share new information while offering insight into what life is like living with a disease that has crippled millions of people of living a normal life. The campaign allows for people struggling with navigation an enormous challenge in their life a place to reclaim some of that normalcy and share their story, providing hope to many around the world.
Gerry Corcoran, a 64-year-old Canadian was diagnosed with osteoporosis in 2008. Gerry utilized the opportunity that World Osteoporosis Day provides to share his story and hopefully give some hope to others. He said in an interview, "I don't think that having osteoporosis has changed my life all that much". He says that he's aware that he needs to exercise daily because of the immense benefit of staying active, especially when you're diagnosed with osteoporosis. Gerry says that he understands why people are scared to be active because they feel so fragile but he vows that it's worth it. Gerry is among a number osteoporosis patients who have shared their stories and experiences dealing with the disease. See Gerry's full story and the stories of others on worldosteoporosisday.org.
Related Posts