Our foot doctors in Commack NY are dedicated to providing the best in surgical and non-surgical treatments for orthopedic conditions affecting the foot and ankle.
All our doctors are extensively trained in the diagnosis and treatment of diseases and conditions of the lower leg, ankle, and foot.
We treat conditions including heel pain and plantar fasciitis, arch pain, bunions, hammertoes, arthritis, tendinitis, fractures, and sprains of the foot and ankle.  We also specialize in surgical and non-surgical treatment of diabetic problems affecting the foot including diabetic ulcers and Charcot's foot. We provide custom orthotics and shoes.
Our practice philosophy is to examine patients on the whole rather than only from the foot and ankle. Many diseases present initially in the lower extremities, just as they may also in the later stages. A specialist, therefore, must always be able to think like a generalist–while still being a specialist.We are a group of professional, empathetic and interested practitioners who specialize in all conditions of the lower extremity within an inviting and state of the art office setting. Our office staff is cheerful, up to date and eager to assist you in all of your needs outside of the exam room.
Since the very early days of our training, each of us have discovered the love for our profession and the absolute art that medicine and surgery can and should always be.
We thank you in advance for your consideration in providing us with the absolute privilege of treating your conditions.
Foot pain is something many individuals will experience at some point in their life. It is not uncommon for children to complain about their feet hurting, but it might be an indicator of something serious when the pain does not go away. Foot pain in your child should never be ignored and should be checked out by our Foot Doctor Commack NY at Foot And Ankle Surgeons Of New York Plainview location. Continue reading to learn more about childhood foot problems and what you need to do for care.
Causes of Foot Pain in Children
While it can be tricky to determine the exact cause of their foot pain, you should bring it up with a Foot Doctor in Commack NY, just 20 min from our Plainview office, as several treatments can provide relief if your child is complaining of foot pain. Early intervention is vital to diagnose and treat any concerns correctly. Some of the most common causes of foot pain in children can include:
Growing Pains – The simple process of growing up can lead to foot pain. As your child grows, their muscles go through significant, rapid changes that can lead to some discomfort. This can be a normal cause of foot pain in your child and may go away in time without causing any problems.
Flexible Flatfoot – Flexible flatfoot is a condition that is incredibly common in children. The arch of the foot completely disappears when the child is standing but appears when they sit down. In most cases, children do not experience symptoms associated with this condition, and the issue may vanish by the time your child is five years old. However, some children may experience pain in their feet when walking. 
Sever's Disease – This is a type of bone injury that occurs when the growth plate in the back of the heel is inflamed. This is a common cause of foot pain in children since their bones are still forming, and this area has a higher risk of becoming injured during strenuous activity. 
Contact Our Foot Doctor in Commack, NY
It's essential to take your child's foot pain seriously, as it could be an indicator of a more serious foot issue that needs to be addressed by a Foot Doctor in Commack NY at our nearby Plainview office. At Foot and Ankle Surgeons of New York, we are committed to providing quality care to our patients. Our team will evaluate your child's condition and pinpoint the source of their pain to find the best treatment. Contact our team today to get your child back to feeling their best!
Treatment For Sports Injuries
Many sports can be taxing on the foot and ankle because of quick, repetitive movements, constricting footwear, and increased exposure to trauma. One of the most commonly injured joints in sports is the ankle. Ankle fractures are common among athletes who participate in basketball, soccer, football, and gymnastics. The staff at Foot and Ankle Surgeons of New York specializes in providing expert treatment to those dealing with an ankle fracture. Our Foot Doctor Commack NY will determine the best course of treatment at our Plainview office to get your ankle back to health and get you back in the game. 
Treating An Ankle Fracture
As an athlete, you subject your feet and ankles to a lot of stress throughout gameplay. Unfortunately, you may be more susceptible to fracturing your ankle. An ankle fracture involves a crack or break in the ankle bone, and this injury requires prompt treatment to ensure that your ankle mobility returns to normal. The symptoms of a fractured ankle tend to be obvious and include:
Pain that stops you from walking. 
Swelling at the onset of the injury.
Bruising. 
Visible ankle deformity.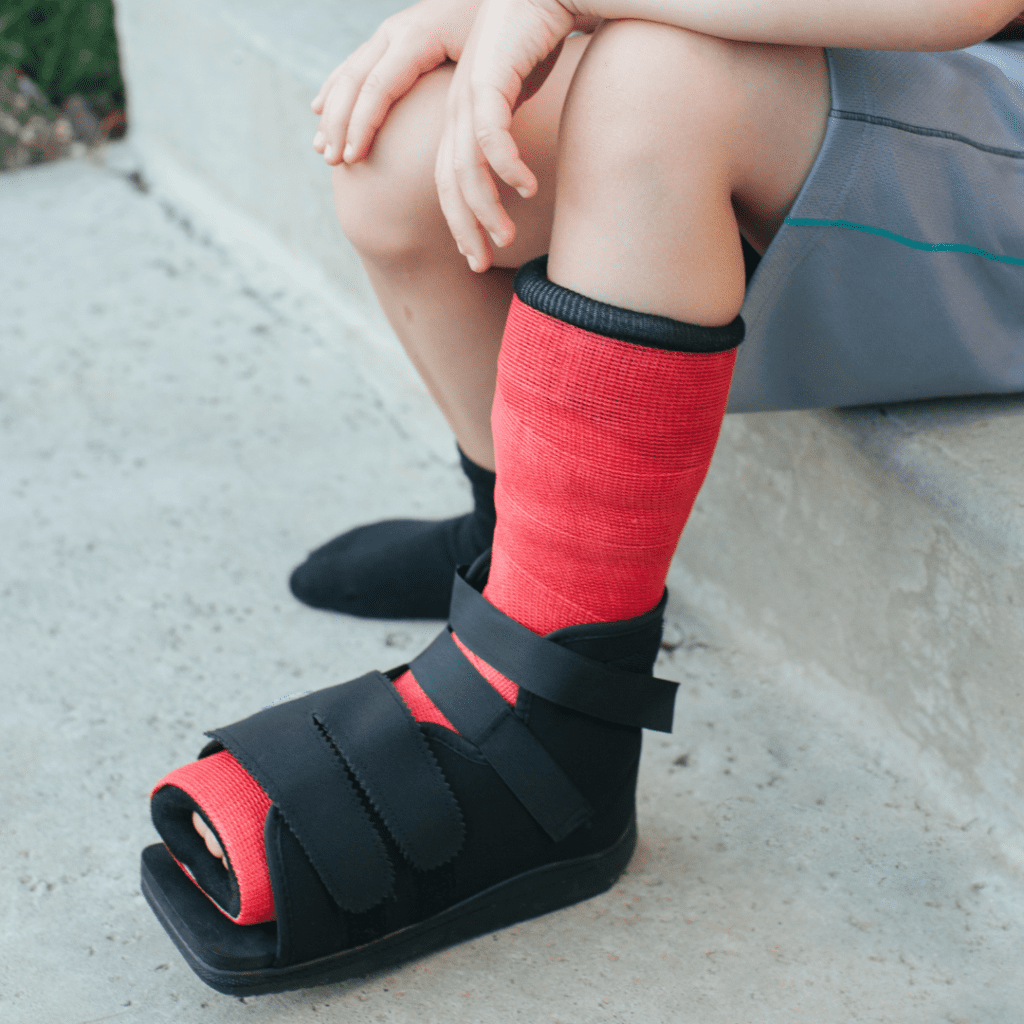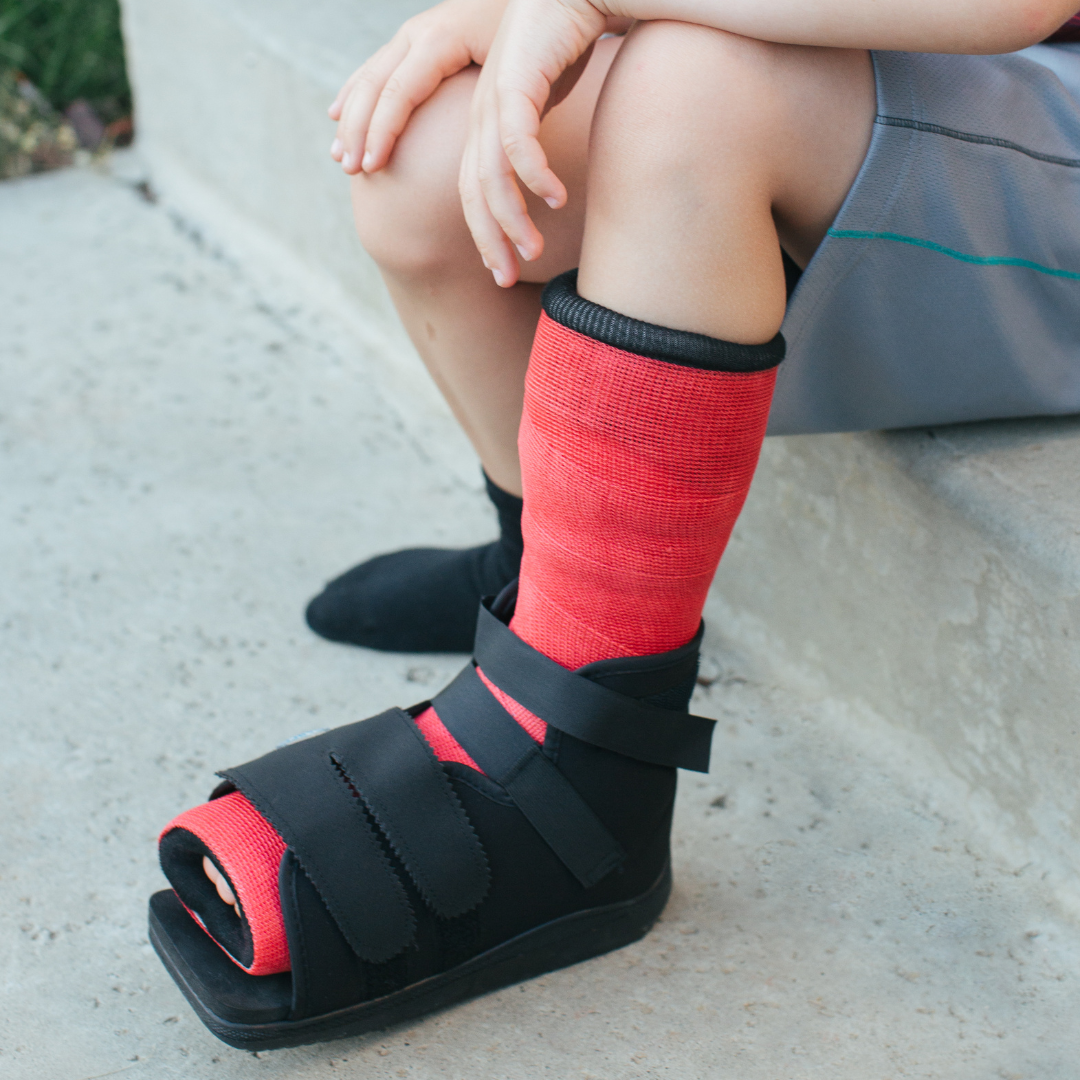 When you suspect this ankle injury, it's best to consult with our Foot Doctor Commack NY at our Plainview office. Our team will evaluate your condition and determine if you have a fractured bone or if the joint has become unstable. Nonsurgical treatment usually involves anti-inflammatory pain medication and splinting. The joint's stability and type of fracture will determine what type of splint will be used and how long you will need the splint. A splint or cast will hold your ankle in place while it heals. 
The support of the cast helps control swelling and takes the pressure off the injured ankle. Casts must be worn for a set amount of time, and it usually takes around four to eight weeks for an ankle fracture injury to heal. 
Do I Need Surgery?
Surgery is usually reserved for severe cases of ankle fracture. If your injury results in instability or the bones are displaced, surgical treatment may be necessary. The most common type of ankle fracture surgery involves placing screws or plates in the joint to stabilize the affected leg. The screws or plates are used to keep bones in place while the bone heals. Our Foot Doctor Commack NY nearby our Plainview office will surgically realign the joint to reduce your risk of developing joint stiffness and arthritis, which can hinder your athletic performance. Once your ankle has fully healed, we will recommend rehabilitation to restore your normal range of motion and strengthen the joint. 
Contact Our Foot Doctor Commack NY
As an athlete, you've spent so much time training to play your best. Don't let an ankle fracture take you away from the sport you love. Our Foot Doctor Commack NY, nearby our Plainview office, will provide you with the best treatment to safely get you back in the game. Contact Foot and Ankle Surgeons of New York today to schedule an appointment! 
When a patient is dealing with foot issues, it can quickly drag down their quality of life. The feet are responsible for bearing nearly all of your body weight and allow for movements such as walking and running to take place. If you haven't been able to find relief from your foot issues after multiple treatment interventions, our Foot Doctor in Commack NY could be on the horizon. Our team at Foot and Ankle Surgeons of New York would like to tell you when an operation is necessary and how we can help.
Common Foot Pain Causes 
Your foot's structure is very intricate, involving muscles, tendons, ligaments, and bones, all working together to function correctly. Even a small issue in one area can lead to pain and functionality problems throughout the foot. Because of this, many culprits can be causing your foot pain. Below are just a few examples of these causes:
Plantar fasciitis.
Stress fractures.
Bone breaks.
Dislocations.
Gout.
Fallen arches.
Arthritis.
When Is a Foot Doctor in Commack NY Necessary? 
Foot pain does not always point to a severe issue. However, knowing when it does can save you time in the recovery process. When a Foot Doctor in Commack NY is required for treatment, the sooner it is administered, the quicker you will likely make a full recovery. Although factors will vary on a patient-to-patient basis, any of the following can point towards the fact that an operation is in your future:
Extreme bruising or discoloration of the foot has taken place. 
The foot is visibly deformed.
You are physically unable to place weight on or move the foot.
Pain has not subsided even after a substantial period of rest.
Foot problems arose after blunt trauma to the foot took place.
Treatment With Our Team
At Foot and Ankle Surgeons of New York, our team knows surgical procedures can be a difficult decision. However, sometimes a Foot Doctor in Commack NY is necessary to facilitate a full recovery. Depending on your injury or condition, there are a variety of operations that can be performed, including some of the following:
Arthroscopic surgery.
Sports injury surgery.
Reconstructive surgery.
Charcot neuroarthropathy surgery.
Contact Us For a Foot Doctor in Commack NY
When you need a Foot Doctor in Commack NY, you must work with the best team available. At Foot and Ankle Surgeons of New York, our staff contains experts who are well-versed in this area of medicine. To learn more about the operations that can get you back to full strength, contact us today.