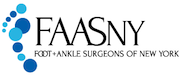 FAASNY provides Long Island and New York City area with the best surgical and non-surgical treatments for the foot and ankle.
FAASNY was established in Lake Success, NY by Dr. Fred DeLucia and Dr. Joseph Alencherry, who both have extensive experience in the diagnosis and treatment of diseases and conditions of the lower leg and foot. They are also surgically trained in advanced reconstructive foot and ankle surgery, enabling them to treat conditions ranging from sprains to diabetic neuropathy by utilizing the most modern medical techniques. Dr DeLucia and Dr. Alencherry have used their skills and passion for quality care to serve Long Islanders and establish a strong reputation for excellence in the medical and local community.
To expand their efforts in providing unparalleled care and options for their patients, Dr. DeLucia and Dr. Alencherry have extended their practice to NYC by opening a location in Manhattan. Located at 7 Christopher Street in the West Village, this office is conveniently located near train access. This new location will feature the most modern and cutting edge resources in medical technology and treatment, while also fostering a comfortable and friendly atmosphere.
To accommodate their rapidly expanding clientele base, the Foot and Ankle Surgeons of New York are proud to welcome a new specialist to their staff, Dr. Diane M. Castro. After graduating from New York University cum laude, Dr. Castro earned her medical degree from The New York College of Podiatric Medicine, where she graduated as valedictorian. She is an associate of various medical associations including the American College of Foot and Ankle Surgeons (ACFAS), the American Podiatric Medical Association (APMA), and the New York State Podiatric Medical Association (NYSPMA). Meeting the high standards of quality and experience expected of the Foot and Ankle Surgeons of New York, she will collaborate with the team to utilize her knowledge for the benefit of patients on Long Island and in Manhattan.
With the growth of the practice, FAASNY continues to provide patients access to the best possible care in the specialized area of the foot and ankle. With a well rounded team of experienced specialists and two convenient locations, patients across Long Island and the greater New York area can receive premium care from the Foot and Ankle Surgeons of New York.
###
For more information on FAASNY, email Amanda Carnesi at Amanda@prescriptionpr.com or visit faasny.com
Related Posts