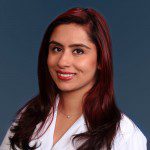 Dr. Raina was inspired to become a podiatrist due to a life-long love of both art and science, which she felt was most perfectly combined in the practice of podiatric medicine and surgery.
She was born in Srinagar, India, and her family immigrated to the United States in 1995, settling down in the suburbs of Washington, DC. She grew up in a family of doctors, and volunteered at Virginia and DC-area hospitals for several years before starting her formal medical training.
She earned her Bachelor of Science in Biology degree from George Mason University in Fairfax, VA and her Doctor of Podiatric Medicine degree from the Ohio College of Podiatric Medicine in Cleveland, OH.
Growing up, Dr. Raina always dreamed of one day becoming a "real" New Yorker, and this dream was realized when she was accepted to a four-year Podiatric Surgery residency at New York Hospital Queens in Flushing, NY. She was trained in comprehensive conservative and surgical management of foot and ankle conditions, took in-house call at a Level-I trauma center, and performed surgery with both podiatrists and foot and ankle orthopedists. Her research interests included investigations into abnormal plantar skin temperatures in neuropathic patients, vascular malformations of the foot, and management of Lisfranc (midfoot) fracture-dislocations.
Dr. Raina has a warm and friendly demeanor. She believes in taking a "whole-body" approach to the podiatric patient – taking into account the complete history and systemic medical conditions as well as the patient's age and lifestyle before coming up with a treatment plan. She also believes in empowering her patients to be their own advocates — giving a full explanation of the diagnosis and discussing all the options for management before proceeding with treatment.
Dr. Raina is fluent in Spanish and Hindi.
In her free time, Dr. Raina enjoys cooking, swimming in the ocean, and spending time with her family.