Our podiatry practice was established in the New York area by Dr. Fred DeLucia and our best ankle surgeon in Nassau County, NY Dr. Joseph Alencherry to provide the best in surgical and non-surgical treatments affecting the foot and ankle. All our podiatric surgeons are extensively trained in the diagnosis and treatment of diseases and conditions of the lower leg and foot. They are surgically trained in advanced reconstructive foot and ankle surgery having completed rigorous four-year residency training at New York Hospital of Queens. Our practice philosophy is to examine patients on the whole rather than simply from the ankle downward. Many diseases first present themselves in the lower extremities, just as they may also in the later stages. A specialist, therefore, must always be able to think like a generalist…while still being a specialist. We are a group of professional, empathic, and interested practitioners who specialize in all conditions of the lower extremity within an inviting and brand new state of the art office setting. Our office staff is cheerful, up to date, and eager to assist you in all of your needs outside of the exam room. We treat conditions such as heel pain from spurs and plantar fasciitis, arch pain, bunions, hammertoes, and sprains of the foot and ankle. We provide custom orthotics and shoes. We also specialize in surgical and non-surgical treatment of diabetic problems affecting the foot including diabetic neuropathy and ulcers. Our office location in Long Island is only a short distance from the communities of Lake Success, Lake Success, Mineola, Garden City, Floral Park, Bellerose, Port Washington, Great Neck, and other towns of Nassau County. The offices in New York City are only a few steps from the West 4th subway station West Village and the Columbus Circle subway station in Midtown.
---
Dr. Alencherry, best ankle surgeon in Nassau County, NY, graduated from Cornell University with a Bachelor of Science degree in Molecular Biology and Concentration in Applied Economics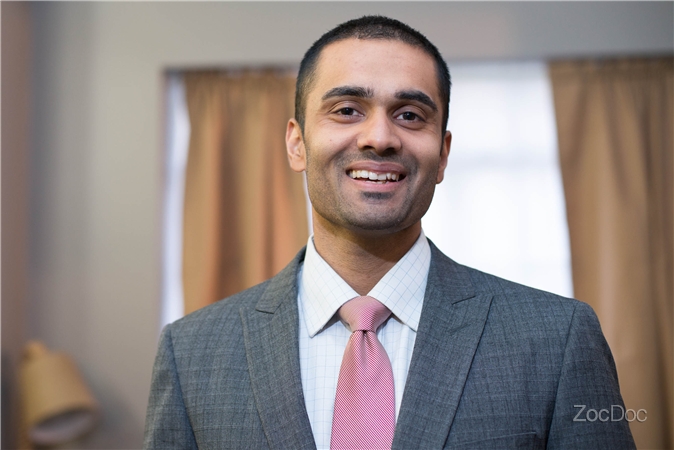 & Management. He earned his medical degree in Podiatric Medicine and Surgery at the New York College of Podiatric Medicine in New York City. He continued his education with a four-year Residency at the New York Hospital Queens, where he was appointed Chief Resident in his final year.
He has comprehensive training in elective, reconstructive, and trauma surgery of the foot and ankle. He also is trained in the most advanced non-surgical and minimally invasive treatments of common foot and ankle conditions. He has an interest in treating the pediatric population and has experience treating congenital deformities. In addition, he has completed several courses and has received training in external fixation and deformity correction techniques at the Ilizarov Institute in Russia.
He is Board Certified by the American Board of Podiatric Medicine and the American Board of Foot and Ankle Surgery. He is a Fellow of the American Board of Foot and Ankle Orthopedics and Medicine and of the American College of Foot and Ankle Surgeons.
He is an active committee member for the New York State Podiatric Medical Association and a proud member of the American Podiatric Medical Association. He serves as the Director of Clerkships for the Podiatric Surgery and Medicine Residency program at New York-Presbyterian/Queens Hospital. He is also affiliated with Northshore University Hospital, Long Island Jewish Hospital, Lenox Hill Hospital, and is actively involved with their Residency programs.
---
Fractures are among the most prevalent problems we treat at Foot and Ankle Surgeons of New York. The ankle is highly susceptible to injury because of the stress placed on the joint when running, walking, or jumping. Even a small abnormal twist or incorrect landing can cause a fracture. While ankle fractures, in some cases, can heal on their own, surgery may be necessary in order to prevent long-term complications. Continue reading to learn some signs that you may need surgery.
Do I Need Surgery For An Ankle Fracture?
The ankle supports the body's weight, making it one of the most common joints to injure and/or fracture. Anything from minor trips and ankle twists to severe accidents can lead to an ankle fracture. Most ankle fractures can be treated in a cast or boot and also may require the use of crutches. However, if your ankle fracture is found to be unstable with displacement of the bones or if you sustain an open fracture, the ankle requires surgical repair. Our team at Foot and Ankle Surgeons of New York may recommend different ankle procedures depending on the nature of the injury and fracture. Some include:
closed reduction: relocating the joint back into alignment and subsequent placement of a splint / cast without skin incisions
external fixation: the use of pins / wires / rods external to the skin to realign the joint. This often is done before internal fixation
open reduction and internal fixation: the surgical process of opening the ankle and repositioning the displaced bones and securing the correction with plates and screws
If your injury requires surgery, the main goal of your procedure is to reposition the bones of the ankle so it can heal in the optimal position. It's also crucial for the joint to be realigned surgically to reduce the chances of developing arthritis and joint stiffness. Once the ankle has fully healed, post-surgical treatments and rehabilitation can help strengthen the joint and restore normal movement.
Contact Us: Best Ankle Surgeon in Nassau County, NY
Making the decision to undergo ankle surgery can seem daunting. Our dedicated staff at Foot and Ankle Surgeons of New York will determine the best course of treatment for your ankle fracture and, if necessary, perform surgery to get you back to optimal health. To learn more about surgery for ankle fractures, contact us today.
---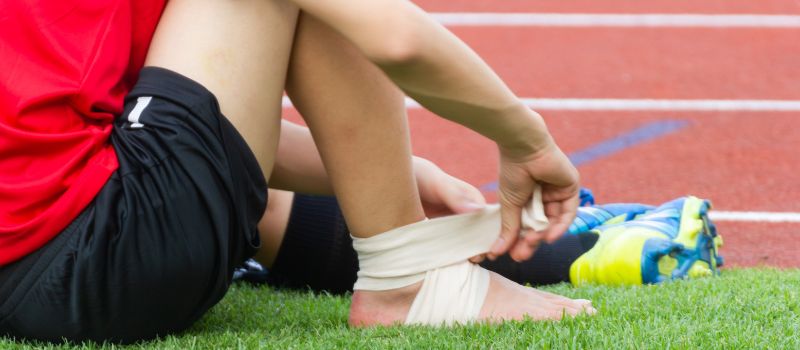 Spring is finally here, and with it comes the start of many outdoor sports. Whether you are an amateur athlete or a seasoned professional, the risk of ankle injuries is always present. The best ankle surgeon in Nassau County, NY would like to discuss the most common types of ankle injuries, notable prevention methods, and what you should do if you suffer one. With this information, you can confidently play your favorite sports and avoid missing valuable time on the field or court. Continue reading to discover more from Foot and Ankle Surgeons of New York!
Avoiding Ankle Injuries This Spring
Ankle sprains are the most common and often painful type of ankle injury in sports. They occur when the ligaments that hold the ankle bones in place are stretched or torn. Other common ankle injuries include fractures, dislocated ankles, and tendinitis. The best ankle surgeon in Nassau County, NY sees several foot and ankle injuries during the spring sports season. Prevention is vital when it comes to ankle injuries. Here are some tips for avoiding ankle injuries this spring sports season:
Warm up and stretch before playing.
Wear supportive shoes that fit well.
Strengthen your ankle muscles with exercises.
Avoid playing on uneven or slippery surfaces.
Take breaks when you feel tired or experience pain.
Treating Ankle Injuries 
If you do suffer an ankle injury, it is crucial to take the proper steps to ensure a quick and complete recovery. Here are some tips for managing an ankle injury:
Rest the injured ankle.
Ice the ankle to reduce swelling.
Compress the ankle with a bandage or wrap.
Elevate the ankle above heart level.
Consult the best ankle surgeon in Nassau County, NY if the pain is severe or the swelling does not subside.
Contact Us
Ankle injuries are a common occurrence in sports, but with the right precautions, you can avoid them. The best ankle surgeon in Nassau County, NY at Foot and Ankle Surgeons of New York can help ensure that you stay healthy and injury-free this spring sports season. With the right guidance, you can reduce your injury risk and optimize your sports performance. Be sure to contact us today to learn more and request an appointment! 
---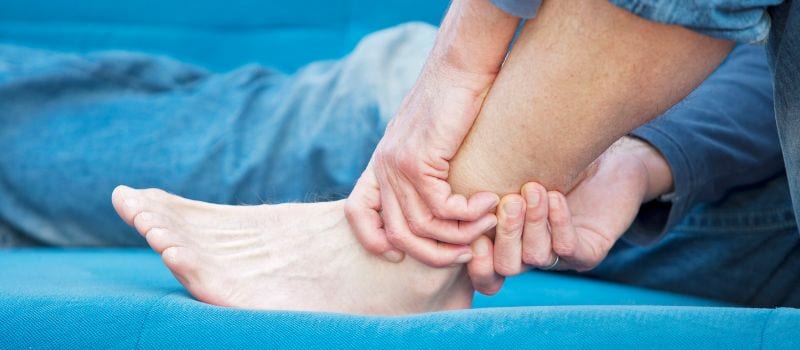 Ankle pain is something that you should never ignore. If you've been dealing with persistent ankle pain, it can feel like your symptoms may never go away. In these cases, ankle surgery with the best ankle surgeon in Nassau County, NY is often the best course of action. Foot and Ankle Surgeons of New York would like to discuss some warning signs indicating the need for ankle surgery. Continue reading to discover more!
Warning Signs for Ankle Surgery
The feet and ankles are complex musculoskeletal structures that support your entire body and bear the impact of your weight. Since the ankles are critical to daily functioning, they can become easily injured. Spraining, twisting, or breaking the foot are common injuries caused by a misstep, athletic activities, or even ill-fitting shoes. While foot and ankle injuries are common, you should never ignore your pain. Failing to treat your ankle pain could result in the need for surgery. Here are some warning signs that you should seek the help from best ankle surgeon in Nassau County, NY:
Persistent Pain – Ankle injuries should gradually heal over time. These injuries often require rest from too much activity. However, if your pain is constant or continues to worsen, then you may need to consider surgery.
Limited Mobility – Surgery may be necessary if your mobility is suffering due to your ankle pain. Ignoring your pain or limited mobility can make everyday movements even more challenging and keep you from the activities you love.
Lack of Relief – Conservative treatments like medication and immobilization can help to ease some ankle pain. However, these methods are often not as effective as they should be. If nonsurgical treatments have failed to provide the relief you need, ankle surgery may be a solution.
While it may seem innocuous, ankle pay is something that you should always pay attention to. Persistent ankle pain can affect so many aspects of your life, but the best ankle surgeon in Nassau County, NY can help you overcome these obstacles and return to a healthy and pain-free life.
Contact Us
If you are concerned about your ankle pain and wondering if you need surgery, Foot and Ankle Surgeons of New York is here for you. Contact us today to learn more about our services and request an appointment with the best ankle surgeon in Nassau County, NY.