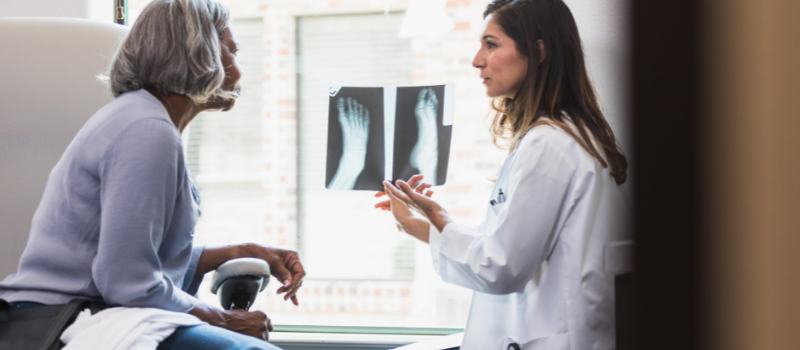 If you've experienced multiple ankle sprains or have certain foot deformities, these ligaments can start to get weak and loosen. Lateral ankle ligament reconstruction is a type of foot surgery in Hicksville that helps tighten one or more ligaments outside of your ankle. At Foot and Ankle Surgeons of New York, our surgeons are well-versed in this procedure. We are here to put your mind at ease so you can make informed decisions about your care. Continue reading to discover more about lateral ankle ligament reconstruction and if it's right for you. 
Who Needs Lateral Ankle Ligament Reconstruction?
The ankle is a vital hinge joint that allows for a broad range of motion, and the ligaments in this area keep your foot steady as you walk. An ankle sprain may partially tear or stretch your ankle ligaments. This first sprain can increase your likelihood of re-injuring your ankle. Some of the signs of an ankle sprain include:
Pain, bruising and swelling.
Feeling that the ankle is locking or catching.
Lack of stability, causing the ankle to give way frequently.
Ankle dislocation.
Most ankle sprains heal with more conservative treatments like exercises or special orthotics. However, you may be a candidate for foot surgery in Hicksville if one or more of the ligaments outside of the ankle has stretched or loosened. It's crucial to have your first ankle sprain treated properly, as repeat sprains can loosen your ligaments even more. These damaged ligaments can lead to chronic ankle instability and cause chronic pain and repeated ankle sprains. Our podiatrists will evaluate your symptoms and determine if you require lateral ankle ligament reconstruction. This procedure is minimally invasive and involves small incisions through the ankle. In most cases, lateral ankle ligament reconstruction is an outpatient procedure. Recovery times may vary from patient to patient, but our team will help you throughout your recovery to ensure your surgery is a success.
Contact Us
At Foot and Ankle Surgeons of New York, we understand that each ankle injury is different. Our specialists will assess your complication and devise a treatment plan to address your unique needs. To learn more about foot surgery in Hicksville, be sure to contact us today!