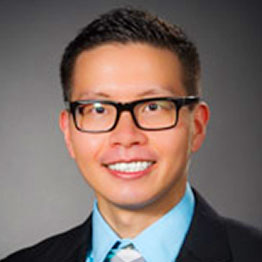 Dr. Yu-Ching Terence Chi
Dr. Chi graduated Cum Laude in Music Composition from Tulane University, where he simultaneously completed his pre-medical requisites. He earned his Doctorate degree in Podiatric Medicine and Surgery at the New York College of Podiatric Medicine in New York City. During his time there, he was a scholarship recipient and was recognized with several awards including the President's Award for academic and clinical excellence.
Dr. Chi completed a comprehensive three-year surgical residency training at Northwell-Long Island Jewish Medical Center, New Hyde Park, and North Shore University hospital, Manhasset. He has extensive training in managing all aspects of foot and ankle pathologies including trauma, reconstructive, elective surgeries and limb salvage. Dr. Chi has completed the AAFAO course in internal fixation, the IFAF course in foot and ankle arthroscopy, as well as the OsteoMed surgical skills course. Dr. Chi has also given lectures on common podiatric pathologies and diabetic foot infections to internal medicine resident physicians at Brookhaven Hospital, NY.
Throughout his residency, Dr. Chi attended to a wide variety of cases and patients. He has provided emergency care to pediatric patients with acute foot and ankle pathologies at Steven and Alexandra Cohen's Children's Medical Center. He has treated patients who suffered from various vascular diseases at the NorthWell Comprehensive Wound Care Center alongside Northwell affiliated vascular surgeons. As part of a sports medicine physicians team, Dr. Chi has also cared for Division One athletes at Fordham University.
Dr. Chi is board qualified in foot surgery and reconstructive foot and ankle surgery by American Board of Foot and Ankle Surgery. Dr. Chi is fluent in Mandarin Chinese.