Our podiatry practice was established in the New York area by Dr. Fred DeLucia and Dr. Joseph Alencherry to provide the best in surgical and non-surgical treatments affecting the foot and ankle. All our podiatric surgeons are extensively trained in the diagnosis and treatment of diseases and conditions of the lower leg and foot. They are surgically trained in advanced reconstructive foot and ankle surgery having completed rigorous four-year residency training at New York Hospital of Queens. Our best ankle surgeon on Long Island is here to help you!
Our practice philosophy is to examine patients on the whole rather than simply from the ankle downward. Many diseases first present themselves in the lower extremities, just as they may also in the later stages. A specialist, therefore, must always be able to think like a generalist…while still being a specialist.
We are a group of professional, empathic and interested practitioners who specialize in all conditions of the lower extremity within an inviting and brand new state of the art office setting. Our office staff is cheerful, up to date and eager to assist you in all of your needs outside of the exam room.
We treat conditions such as heel pain from spurs and plantar fasciitis, arch pain, bunions, hammertoes, and sprains of the foot and ankle. We provide custom orthotics and shoes. We also specialize in surgical and non-surgical treatment of diabetic problems affecting the foot including diabetic neuropathy and ulcers.
Our office location in Long Island is only a short distance from the communities of Lake Success, Lake Success, Mineola, Garden City, Floral Park, Bellerose, Port Washington, Great Neck, and other towns of Nassau County. The offices in New York City are only a few steps from the West 4th subway station West Village and the Columbus Circle subway station in Midtown.
Dr. Alencherry graduated from Cornell University with a Bachelor of Science degree in Molecular Biology and Concentration in Applied Economics & Management. He earned his medical degree in Podiatric Medicine and Surgery at the New York College of Podiatric Medicine in New York City. He continued his education with a four-year Residency at the New York Hospital Queens, where he was appointed Chief Resident in his final year.
He has comprehensive training in elective, reconstructive and trauma surgery of the foot and ankle. He also is trained in the most advanced non-surgical and minimally invasive treatments of common foot and ankle conditions. He has an interest in treating the pediatric population and has experience treating congenital deformities. In addition, he has completed several courses and has received training in external fixation and deformity correction techniques at the Ilizarov Institute in Russia.
He is Board Certified by the American Board of Podiatric Medicine and the American Board of Foot and Ankle Surgery. He is a Fellow of the American Board of Foot and Ankle Orthopedics and Medicine and of the American College of Foot and Ankle Surgeons.
He is an active committee member for the New York State Podiatric Medical Association and a proud member of the American Podiatric Medical Association. He serves as the Director of Clerkships for the Podiatric Surgery and Medicine Residency program at New York Presbyterian/Queens Hospital. He is also affiliated with Northshore University Hospital, Long Island Jewish Hospital, Lenox Hill Hospital, and is actively involved with their Residency programs.
Reconstruction and Trauma Painful flat-feet (pes planus), painful high-arched feet (pes cavus) Congenital and Acquired deformities (soft tissue and bone) Osteoarthritis of the foot and ankle Complications from Rheumatoid ArthritisOsteomyelitis and soft tissue infections Foreign bodies and puncture wounds Joint replacement surgery Plastic surgery techniques Arthroscopic surgery Sports injury surgery Ankle instability Tendon tears and ruptures Charcot neuroarthropathy reconstruction Diabetic limb salvage procedures (wounds, ulcers, infections) Common conditions such as bunions and hammertoes, plantar fasciitis, neuromas, and skin lesions.
Patients that require orthopedic surgery on their feet have a multitude of different needs for their specific condition. The initial degree of preparation for your surgery likely depends upon the severity of the issue at hand. Yet, there exist general guidelines that anyone who is about to undergo foot surgery can benefit from. Ensuring that you are fully prepared for the surgery itself, along with your daily life after the surgery, is crucial in promoting a healthy recovery process. If you are looking for the best ankle surgeon on Long Island, Foot and Ankle Surgeons of New York are here to provide your orthopedic needs.
If you live alone, you will need to prepare your home to be more accessible for yourself while you recover from surgery. If your bedroom is upstairs, consider making a bed on the main floor of your home, and gather everything else you may need. Doing so will allow you to minimize your efforts moving around while allowing you to engage in optimal rest time. You'll also want to fill your home with all the essential items that you may require after foot surgery.
Remember, you'll want to prevent yourself from having to leave the house as much as possible. It's also imperative that you make premeditated plans for meals. Try having them ready to heat up so that you will not have to stand and cook for a prolonged period. Make sure that you have all the necessary items at your close reach, limiting the number of times that you will be forced to stand up on your feet.
For dressing yourself after foot surgery, you'll want to prepare soft, loose clothing that is easy to take on and off. Aggravating your foot by dressing and undressing and can be a frustrating occurrence. Look to wear suitable clothing such as sweatpants for the next couple of weeks. It is also best to have a few changes of clothes right at your disposal so that you will not have to travel far. At FAASNY, our best ankle surgeon on Long Island will help you to be as comfortable as possible after surgery.
After foot surgery, you'll need to arrange for someone to pick you up to take you home as you will be unable to drive during recovery. Should the need arise for you to leave the house, have someone take you to your destination. It is discouraged to be in a car a week or two after surgery because you will be unable to elevate your foot above heart level as properly instructed.
On the day of the foot surgery, you should have all nail polish or jewelry removed and remember to wear loose, comfortable clothing. Make sure to arrive early, about two hours, to allow an ample amount of time to fill out forms and make other preparations. Your doctor will administer anesthesia before the surgery, and make sure you are comfortable before beginning. The length of the surgery will depend on what exactly is being treated.
When you are undergoing foot surgery, you want to make sure you are being treated by the best of the best. If you are seeking the best ankle surgeon on Long Island, FAASNY can help. We have very experienced and knowledgeable doctors that will ensure you are treated with the utmost care. Contact us today if you want to be treated by the best ankle surgeon on Long Island!
Tendon Transfer For Foot Drop – Recent Blog Posts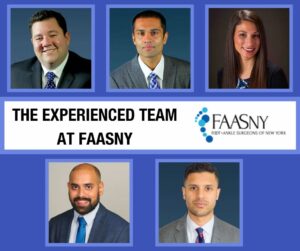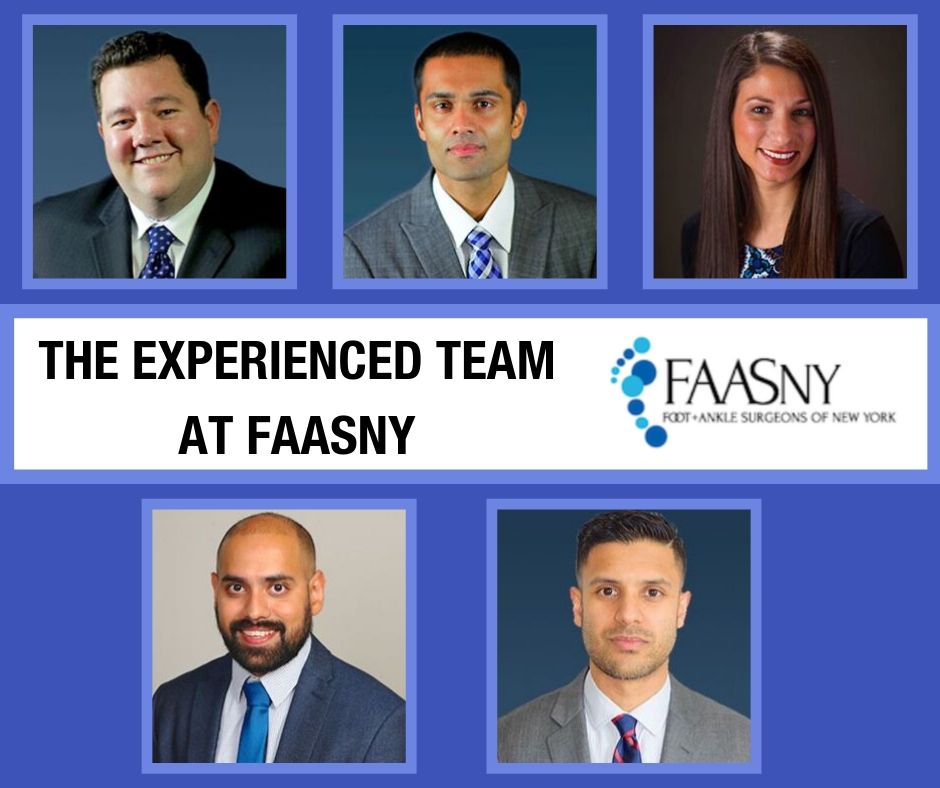 Deformities and inhibitions within the foot are often viewed as one of the most burdensome medical conditions. This is due to the rate at which we constantly need to use our feet in order to execute movements and to literally take us places. Straining through injuries within the lower extremities should never be considered and can typically be treated by an ankle surgeon in Long Island. Fortunately, contact can easily be made with an ankle surgeon in Nassau County over at the Foot And Ankle Surgeons of New York. With convenient locations in the New York area, FAASNY is able to provide quality surgery-related services to the lower extremities for all of its patients. Continue reading to learn about a common tendon correctional surgery, known as foot drop treatment.
What's The Issue With Foot Drop?
Foot drop is a foot-related complication that refers to an issue in which the muscles that are typically used to lift the foot upward are no longer capable of doing so. Commonly, this issue could have been triggered by a number of nerve-related traumas such as stroke or neuropathy. An inability to lift your feet can lead to a plethora of complications and will certainly make ordinary movements such as walking a daunting task. The best ankle surgeon on Long Island may recommend a protective brace to promote movement or even a potential surgical procedure.
Surgery – What Do I Need To Know?
What makes this procedure a bit complex is that certain qualifications need to be maintained in order for a patient to consider a tendon transfer surgery such as foot drop treatment. Pertinently speaking, the procedure cannot be performed if the patient presently has no muscle function within the ankle. Patients will need at least some working muscles in order to less complicate the surgery and make it a full success.

Overall, the primary goal of this procedure is to restore the function in which the foot/ankle is able to be lifted and moved about freely. This can apply if the foot/ankle has either completely lost this ability or if it has become progressively weaker. Essentially, the procedure works almost exactly as it sounds. Your ankle surgeon on Long Island will attempt to transfer tendons (that are still functional and have muscle) from one part of the foot in order to replicate the functionality that is currently missing. Naturally, your ankle surgeon on Long Island will need to make multiple incisions around the foot in order to carry out the procedure. Ordinarily, a common tendon that is utilized for transfer in this surgery is the posterior tibial tendon.
Contact The Best Ankle Surgeon on Long Island
For questions regarding this procedure and other similarly related surgeries performed by our expert ankle surgeon on Long Island, contact FAASNY today for an appointment and further information.